Mabang, a word music band from Guangxi. They blends folk and traditional music from southern China with Rock, Reggae and SKA in a unique style. Looking deep into the vast mountains of Guangxi Province in China's southwest, the band shows beautiful sounds and styles rarely heard outside of the region.
After the show at Mako in 2015, this is the first time Mabang "go northward" to play in northern cities of China.
The members of the Mabang play a wide variety of Chinese and Western musical instruments, and excel at foregrounding rare folk instruments, ethnic singing styles, and vocal harmonies in their shows. Lead vocalist Honggang Ye's voice is striking and powerful as he sings in the local Guiliu dialect, blending with the uninhibited rhythms of the percussion, the sonorous suona, and intricate and powerful vocal harmonies. These elements combine to form the unique sonic imprint of the band, transporting audiences instantly into the vast mountains and mysterious jungles of China's southwest.
In June 2014, Mabang officially signed to the indie label Zen Music which is under Starsing Music Group.
In July 2015, Mabang's eponymous debut album was formally released.
In 2016 Mabang got the award The Best Popular Folk Musician of Douban Abbey Road Music Award.
In July 2017, Mabang was invited to the FMM Sines Music Festival in Portugal and the T?NNIS ROCKT festival in Germany.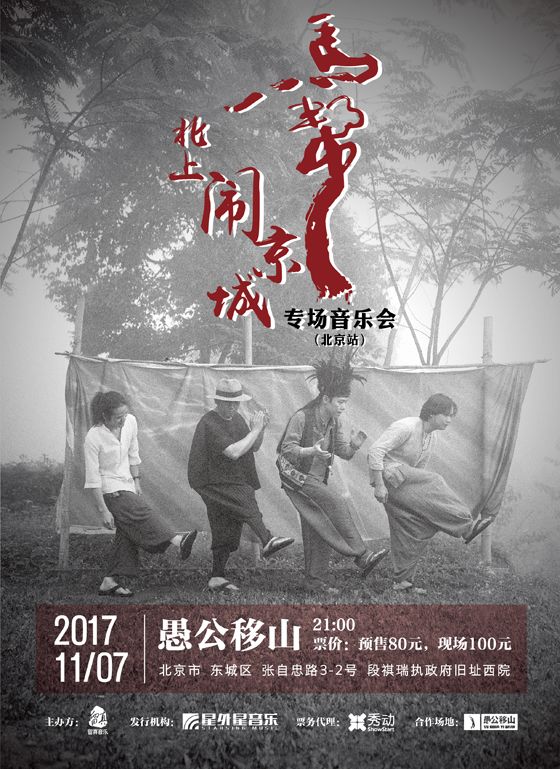 Start:

Tickets:

Rmb 100 (door) / 80 (presale | on a first-come-first-serve-basis)