Guest: ENDLESS WHITE
FAZI (formerly The Fuzz) is a Chinese Post-Punk / Indie-Rock band formed in Xi'an in 2010.Their music brims with abundant vitality, moves its audience from the inside, stirring anger in their calm.On stage they're like a perpetual motion machine, relentlessly generating captivating noise. Their music points directly to your heart, simply but powerfully.
October 2013, FAZI released debut album "Running Horse". March 2015, they released a 7 inch vinyl "Golden Cage" then signed to Maybe Mars. In early 2016, their second studio album "Root of Innocence" was released. Afterwards, FAZI went on a massive 43-city album release tour in China in March and April. One year later, in April 2017, FAZI went abroad for the first time. They had 14 shows and 2 festival showcases in Italy, France, Belgium, Netherlands and Germany. FAZI eared applause and praise with their proudly Chinese singing. Europeans were surprised by this post-punk band from China. The albums and merch FAZI brought were sold out even before the tour finished. Now, FAZIs third album "Heart of Desire" is coming, with 8 tracks they recorded on the way of their last China tour, available in digital, CD, cassette and vinyl.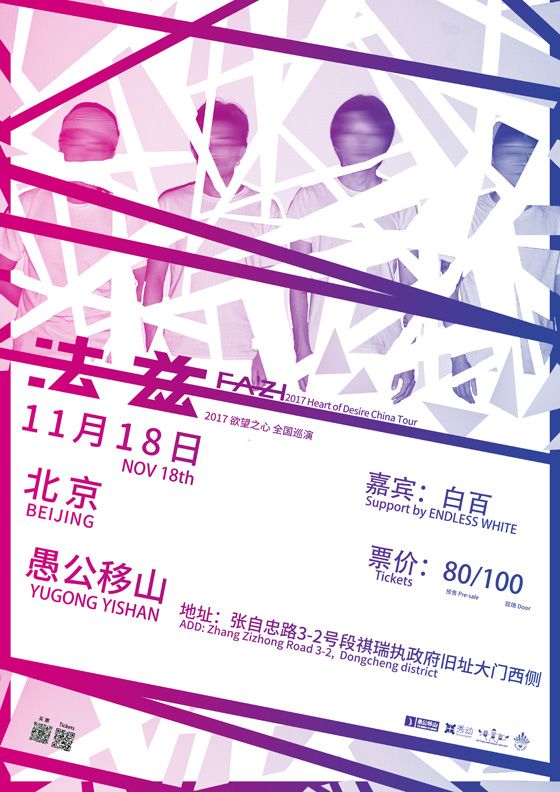 Start:

Tickets:

Rmb 100 (door) / 80 (presale | on a first-come-first-serve-basis)