As one of the most mature Rock n' Roll bands from Germany, Tim Beam's band is now known as the Tim Beam & The Shots of Love with brand new line-up – Michael Goldsmith on the guitar, Dominik Schweizer on the bass and Phillipp Bellinger on the Drum, and of course Tim Beam himself – comes to China.
The band has toured in Australia, Poland, Denmark, Switzerland and France, and was internationally met with enthusiasm from the fans. It is known for compositions of remarkable unique styles and a combination of Hard Rock with modern music, and is influenced by classic acts such as Guns N' Roses and Rolling Stones. Tim beautifully mixes various elements and creates a multi-dimensional Melo Rock.
Tim Beam has so far released seven albums and many EPs, and with his topnotch mainstream rock band has been responsible for many TV/film soundtracks. Previously they collaborated with Uriah Heep, The Great Crusades, Beth Hart, John Waite, The cranes Spider Murphy Gang, Reamonn, Birth Control, Naked Raven, Xavier Naidoo.
Tim's lyrics are also critically acclaimed. This tall blonde singer makes sure audience are to be moved by his sincerity, passion and live performance wherever, whenever.
晚8点 // 100元(现场)/ 80元(预售 | 数量有限,售完即止)
Pm 8 // Rmb 100 (door) / 80 (presale | on a first-come-first-serve-basis)
在线购票 Tickets online: https://yoopay.cn/event/ygys20170420
Tickets online: https://yoopay.cn/event/ygys20170420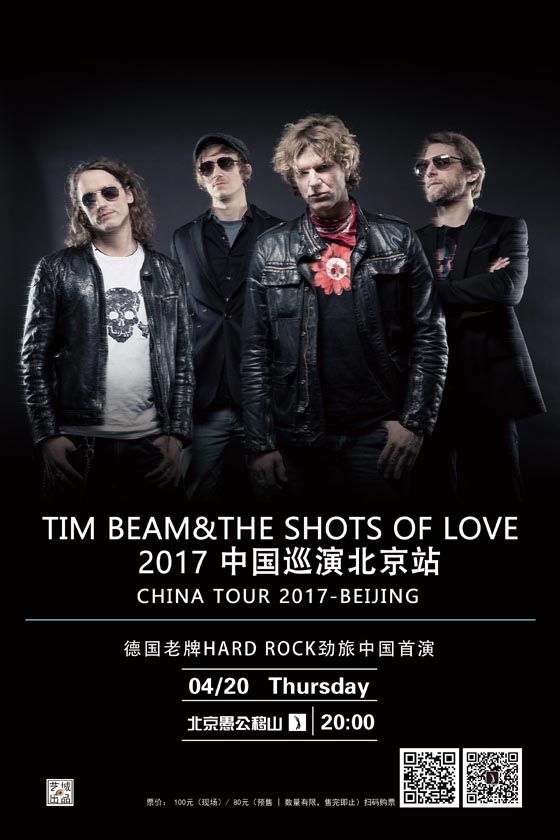 Start:

Tickets:

Rmb 100 (door) / 80 (presale | on a first-come-first-serve-basis)