A Chinese national tour presented by Kunmusic (China)、Longmorning Culture (Milan) and ICCX(Centro interscambio culturale Italia-Cina ).
Quotes:
Cui Jian (godfather of Chinese Rock): "The band is very original , producing very authentic rock funk music!"
Youdai (influential DJ): "Passionate! Amazing!"
Xie TianXiao (legendary rock musician): "The three-piece is one of a kind. You are not going to regret this."
OCTOPUSS is a powerful trio of mind-blowing impact from the continent. The group's musical style, influenced by the sound of the likes of The Jimi Hendrix Experience, Red Hot Chili Peppers and The Beatles, is a unique, solid rock with a heavy hint of funk, as well as elements from other genres such as punk rock and psychedelic rock.
The trio, originally called "Octopus", currently consists of founding members Reepo (vocals and guitar) and Garrincha (bass – former member of "Le Vibrazioni", one of Italy's most famous bands, with 3 records and more than 500.000 copies sold for Sony Italy, and now member of the X FACTOR Superband in the current Italian edition of the successful TV show airing on prime time), and drummer Luca Capasso.
Before having produced any records or signed a contract, Octopuss has alreadyperformed at countless gigs at an array of venues and festivals all over Italy, and soon decided to bring their music across the Atlantic for a first self-produced U.S. tour, with outstanding feedback from each of their gigs; then back to Italy, the buzz around the band started to become international, and because of this they were invited to play some sets in London as well.
Meanwhile the band has been writing new songs, and the tightness and confidence at live shows have been increasing exponentially. To capture this positive band's flow, Octopuss decided to self-produce and film a live video included in the DVD called "OCTOPUS LIVE", which is sold at their concerts, mixed by Marco Trentacoste, who recently worked on Lacuna Coil's latest live film.
After having won the Italian edition of the Jack Daniel's Challenge for Rock TV Italy as "The Best Rock Band", the trio is invited to perform at the Global Music Event at Lynchburg, Tennessee, to represent the Italian rock scene in the U.S. in 2009.
With the high profile contacts the band managed to acquired on previous US tours, Octopuss moved to Los Angeles to start recording their highly anticipated new album, which will be titled "A Nut For A Jar Of Tuna", produced and mixed by the famous British producer, Gary Miller (David Bowie, Simply Red, Slash & Fergie, Andrea Bocelli, Lionel Ritchie, Donna Summer, Girls Aloud, Cheyenne, Bananarama, Kylie Minogue and many others)
The band just finished working on the music video for the song, "RUN RUN RUN". The song, along with the music video (available in two versions: web/TV), will anticipate the new album's official release.
Italy Sky TV choose their song Miami Airport as the piece postlude in SKY 3D TV`s all program during 2014-2015.
Octopuss is now busy approaching international record labels to promote its music worldwide.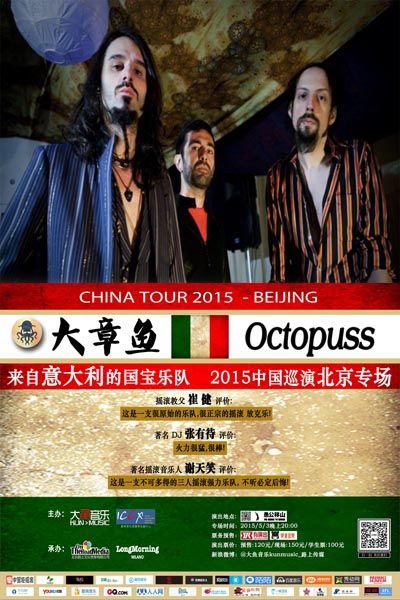 Start:

Tickets:

Rmb 150 (door) / 120 (presale | on a first-come-first-serve-basis) / 100 (students | with student ID on the door)