AM444 [CN/NL]
AM444 is a positive product of globalization, a duo resulting from the meeting of ChaCha– vocalist, MC, and well-known figure of the Shanghai underground– and Jay Soul, a Dutch producer who was propelled himself for some time in the Chinese megalopolis. From the release of their first EP, Eye Wonder, and their debut LP, Rooms, AM444 has created a buzz. Both of the opuses deliver an exotic yet definitely urban sound, where one can feel the duo's versatility and ability to absorb worldwide influences. But the real surprise is the warmth of ChaCha's voice, which undulates smoothly through musical styles and transforms Mandarin Chinese into a language that sounds suddenly accessible, even familiar.This is clearly heard in the surprising Détache toi, a tune that inspired French pop star Matthieu Chedid and put AM444's French debut under a good star. With such swag and karma, AM444 is set to break borders!
http://am444.com/
CALLmeKAT [DK]
Known for her alternative pop CALLmeKAT is the internationally acclaimed moniker of Scandinavian musician, composer and singer Katrine Ottosen. She grew up in a forest in the Danish countryside, where she would always find herself secretly drawn towards an old beat up piano. Now later in life her ongoing love for vintage and analog keyboards shines through in her music, infused with an earthy feel and a rare talent for symbiotic relationship between electric and organic elements.
In 2008 CALLmeKAT released the critically acclaimed 'I'm In A Polaroid Where Are You?' (EP) and 'Fall Down', through her own Pixiebooth label. This was followed up with the 2012-release of the haunting psych-pop loaded sophomore album 'Where The River Turns Black' recorded in the beautiful Catskill Mountains, in the state of New York and released throughout Continental Europe (Pixiebooth/Word&Sound/Playground). Where The River Turns Black featured drummer/multi-instrumentalist and producer Joe Magistro (Prophet Omega) and notable bass player Sara Lee (GangOf Four, B 52's), with guest appearances by pals from the road; Erika Spring (Au Revoir Simone) and Helgi Jonsson (Sigur Ros).
http://www.callmekat.com/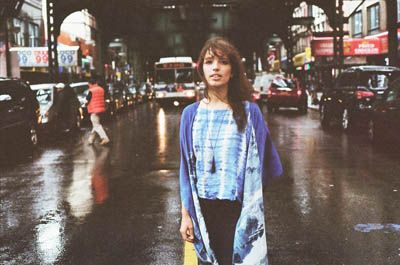 FIFI RONG
Originating from Beijing, Fifi Rong is a unique singer, songwriter and producer currently living in London.Sometimes dark and sultry, sometimes light and beautiful, Fifi's distinctive sonic vision, creative palette and constant experimentation sets her apart from her peers. Eccentric, deep and honest, Fifi brings pure emotional intimacy into her songs with a mesmerizing voice, nuanced with flair of her Chinese heritage. Fifi incorporates a wide range of genres such as Dub Geggae, Electronica, Jazz, Dubstep, Tip Hop, UKG, Soundscape into her production, resulting in a singularly unexpected musical hybrid that draws its beauty from its one of a kind unearthliness. In 2013 Ffi was invited to record for Trip Hop ledgend Tricky's new albume False Idols and became lead voicalist, composer and producer of 2 of the tracks – If Only I knew and Chinese Interlude. Then under the label of Tricky Fifi released her debut album Wrong in the same year. Since the turn of this year, Fifi has been collaborating with many other exciting artists/producers from various art and music scenes and her brand new EP Next Pursuit has just been released.
http://www.fifirong.com/
在线购票 Tickets online: https://yoopay.cn/event/DONGDONGMUSICFESTIVAL
Start:

Tickets:

Rmb 180 (door) / 130 (presale | on a first-come-first-serve-basis)​