LA based progressive death metal legion The Faceless, is coming up for a high-anticipated show this autumn in Beijing.
Formed by guitarist Michael Keene and bassist Brandon Giffin in 2003, together with members of Veil of Maya and Animals As Leaders, this american quintet has been the flagraiser of not only the Sumerian Record but also the entire Progressive Technical-Death Metal aristocrats. With 3 solid albums in 6 years, they enter worldwide stages with full force.
Their debut album Akeldama was released on Sumerian Record in 2006. Despite the period in which the so-called Deathcore was taking over the whole metal landscape, The Faceless still delivered a quite different vibe without repetitions and mediocrity. They were too far ahead in music than any other band to begin with.
With their second album Planetary Duality, they finally got recognition within the global metal scene. This album as a natural evolution sonically shows the infinite possibilities hidden behind their music and conception. Riding on this musical comet they truly broke through to the zenith of star atlas of prog-death metal firmament. Following this release they had racked up a bunch of joint shows with some heavy-weights à la Meshuggah, Lamb of God, Cannibal Corpse and In Flames all over the world.
In their unfathomable latest effort Autotheism which was released in the doomsday year of Maya Chronicle 2012, they pictured the vision of the chaotic collapse of theism and hailed the logic system resolutely. Whilst many of their peers have been swept over the cliff by the icy winds of change, the contingent is still showing their innate capacity for creating their haunting musicality and sailing through the turbulent ocean of trend. The multi-fusion music style with free Jazz elements and clean vocals indicates the rebirth of a new Progressive Death Metal Messiah itself. This album also holds a top 50 record in Billboard 200 and even towers the CMJ Loud Rock Radio Chart.
As the spearhead of the next wave of modern metal music, their upcoming concert will take all of you to the Avalon of the Faceless Empire.
Time tab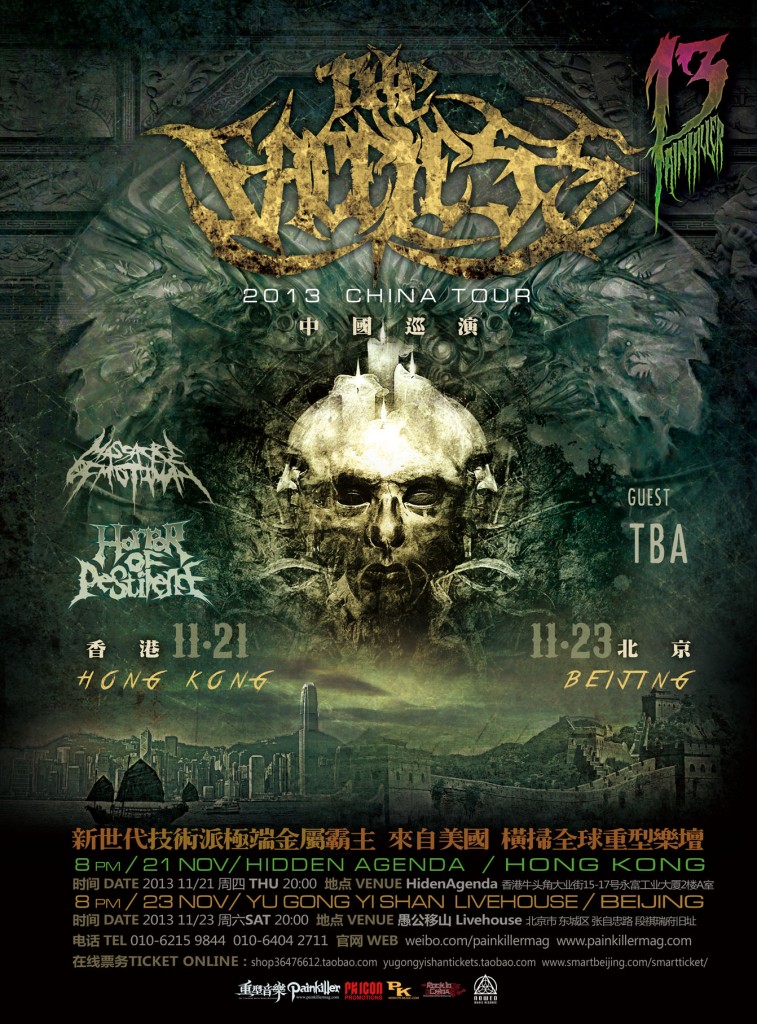 Tickets online:
http://shop36476612.taobao.com
http://yugongyishantickets.taobao.com/
http://www.smartbeijing.com/smartticket/
Start:

Tickets:

Rmb 400 (VIP) / 230 (door) / 180 (presale | stop at midnight on 22nd of November)