Korpiklaani (Finnish: Wilderness Clan) is a folk metal band from Finland who were formerly known as Shaman.
While other folk metal bands began with metal before adding folk music, Korpiklaani started with folk music before turning metal.The roots of Korpiklaani can be traced back to a Sami folk music group under the name of "Shamaani Duo",[2] an "in house restaurant band" created by Jonne J?rvel? in 1993. An album of folk music (Hunka Lunka) was released under this name before J?rvel? relocated and "Shamaani Duo" morphed into "Shaman".
The band underwent another evolution in 2003, and "Shaman" became "Korpiklaani" (with only J?rvel? and drummer Samu Ruotsalainen remaining from the last "Shaman" lineup), with the music style to a more conventional folk metal with folk/thrash vocals instead of yoiking. Shamániac had already featured a strong resemblance to the future Korpiklaani style. In fact, the song, "Vuola lávlla", has the same music as the Korpiklaani song, "Beer Beer".
The change in name was accompanied by a change in the music. The traditional yoik vocals and the use of the Sámi language were dropped while the synthesizer was replaced with real folk instruments. Jonne J?rvel? credits his work with Finntroll as the catalyst for the shift in emphasis from folk to metal. Their song lyrics are often related to alcohol and partying.
According to Jonne J?rvel?, Korpiklaani's music would be seen as "old people's music with heavy metal guitars" in Finland.
Promoter: Modern Sky, GuitarChina.com, XOUNDFORCE,
Organizer: DragonShout.com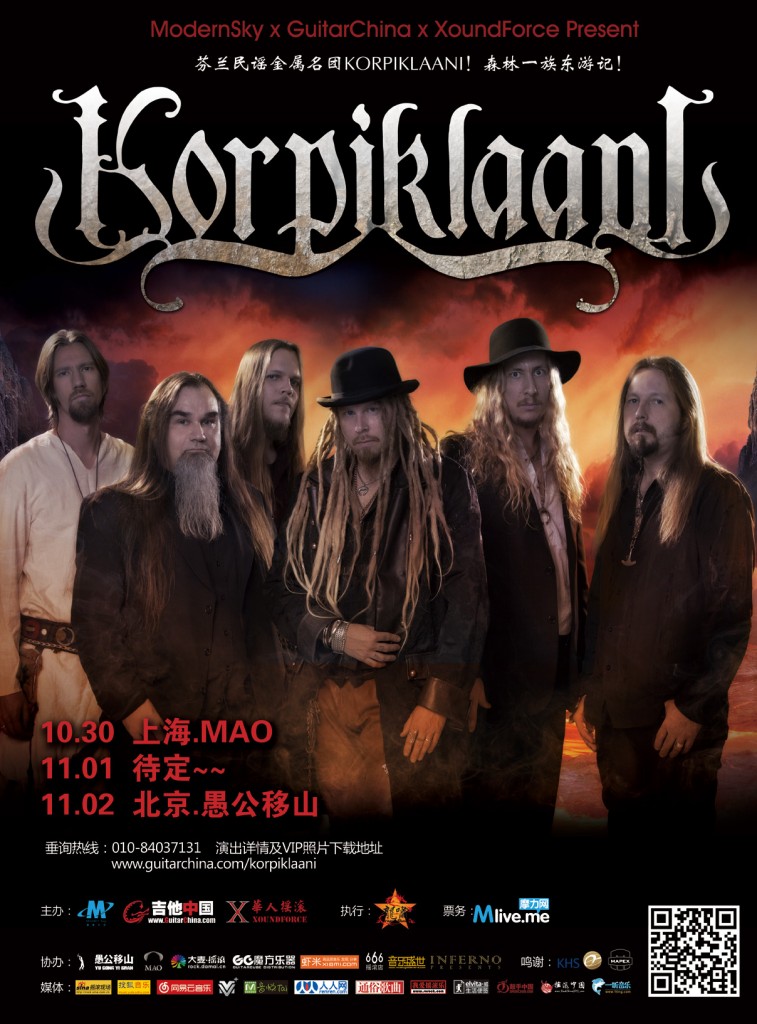 Guitar China Tel.: 010-84037131
http://www.guitarchina.com/korpiklaani/
Tickets online: http://yugongyishantickets.taobao.com
Start:

Tickets:

Rmb 580 (VIP | Poster + signature + photo, 50 tickets limited) / 300 (door) / 220 (presale | on a first-come-first-serve-basis)