NEW NOISE  Proudly Presents
New Noise is very proud to host a  tour for Behind the Shadow Drops and Xie Yugang, both presenting their new solo albums. Behind the Shadow Drops is the new solo endeavour from Takaakira "Taka" Goto, founding guitarist and composer of iconic Japanese band, MONO, presenting his new album "H a r m o n i c". Frontman of China's biggest post rock band Wang Wen, Xie Yugang, will present his new album "Echo Library". Taka and Xie have been standing on the forefront of Asian's instrumental music scene for nearly two decades and will share the stage for 3 special shows in Chengdu, Beijing and Shanghai.
Behind the Shadow Drops combines Taka's disparate but commensurate interests in may different forms of music, most notably ambient, triphop, industrial minimalism and modern classical. The first album of Behind the Shadow Drop "H a r m o n i c" is mixed by legendary producer John McEntire (Tortoise, Yo La Tengo). What begins as a passing resemblance to the more melancholy work of Goto's ensemble, MONO, slowly mutates into something otherworldly, submerging in a symphony of synths, drum machines, noise loops, and mournful strings. Resembling something like waves rippling in the ocean under a moonlight sky, "H a r m o n i c" is as eerie as it is beautiful, a vast abyss punctuated by seemingly endless glimmers of light.
Xie Yugang's first solo album "Echo Library" contains a collection of 11 ambient songs written in the winter of 2016 at the Echo Library in his hometown Dalian. Filled with melancholy and natural harmonies, Xie creates musical landscapes that bring up deserted winter landscapes to our minds. His ambient soundscapes are in the like of sound icons like Brian Eno.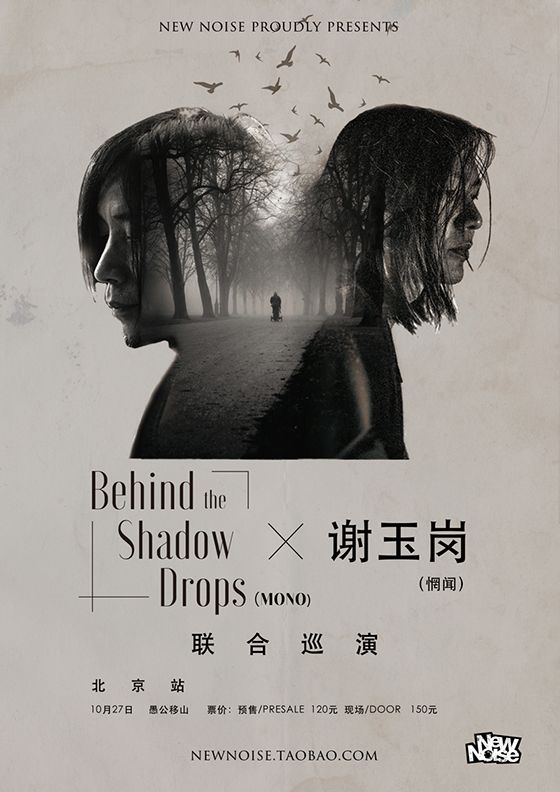 Start:

Tickets:

Rmb 150 (door) / 120 (presale | on a first-come-first-serve-basis)