Opening Bands: Snapline, Shou Wang
Brooklyn's Psychic Ills, named by the Village voice as "New York's best psych-rock band", team up with Beijing "psychoney" originators Chui Wan to spread expansive, hypnotic rock across China. Psychic Ills have been jamming out with a mix of everything from minimalist drone to space-rock freakouts since 2003, touring the US with bands like the Butthole Surfers and Boris. In their most recent record, the critically acclaimed 2011 release "Hazed Dream" (Sacred Bones), the band has evolved a more straight-forward sound with tuneful but nuanced chill-out psych. Meanwhile, Chui Wan, the cream of Beijing's experimental crop – and the newest addition to Maybe Mars Records – offer up a less restrained brand of psychedelia, captured on their debut, "White Night" to be released on this tour.
Now these two psych innovators team up for a free-wheeling trip down China's coast, performing with several of China's best musicians including Snapline, Shouwang, Duck Fight Goose, AV Okubo, 8 Eye Spy and more. Don't miss this international pair as they usher in a new wave of psych-rock in China.
PSYCHIC ILLS
Hypnotic, elusive New York experimental rock band Psychic Ills took shape in 2003, when they pressed their own 7″ and started playing shows. They've remained ambiguous and often hard to classify through the years as they've traversed a variety of musical terrain and personnel changes. Recently, Tres Warren, Elizabeth Hart and co. have emerged with a seemingly more streamlined and accessible approach to their original blend of music as displayed on their record Hazed Dream for new label Sacred Bones Records.
"Faced with a deluge of groove based psych, many listeners failed to notice Psychic Ills peculiar idiosyncrasy, and they got subsumed. Now that all is quiet, or quieter, on the kaleidoscopic rock front, it's easier to hear the radical economy that sets them apart. While most freaked-out churners give in to the temptation to throw everything into the cauldron and boil, Psychic Ills cherry-pick their ingredients and slow roast till golden… a mirror in a desert gently turning in the breeze" – The Wire Magazine
For more info: http://www.psychicills.com/
Chui Wan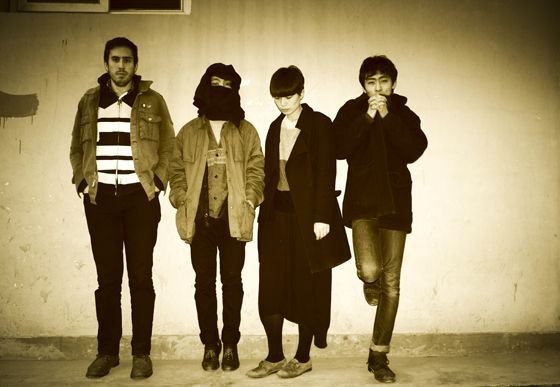 Chui Wan is a four-piece experimental psychedelic rock band from Beijing, China. They get their name from Daoist philosopher Zhuangzi's "Qi Wu Lun" (齐物论), a mystical work on the relationship between nature and human life. The spirit of Zhuangzi's thought is reflected in the modern Chinese idiom: "谓风吹万窍,发出各种音响。" – "When the wind blows, every sound may be heard therein."
Inspired by this concept of seeking the infinite from the mundane, the core of Chui Wan's sound is formed by the improvisational compositions of multi-instrumentalist Yan Yulong and guitarist Liu Xinyu. Their lush arrangements of guitar, keyboard, viola, other assorted instruments and random sound samples often eschew reliable melodies and vocal harmonies in favor of occasional passages of minimal drone or maximal sonic layerings. Bassist Wu Qiong and drummer Josh Feola provide a stable ground floor from which the band can continually float away, like a sound half-heard and soon gone on a gust of wind.
For more info: http://maybemars.org/index.php/artists/chui-wan/?lang=en
Start:

Tickets:

80 / 60 (pre-sale) / 60 (students)