UBC/AKA KING LION  MIGUEL [喀麦隆 CAMEROON]
龙锦 LONG JIN [中国 CHINA]
ABEL X [埃塞俄比亚 ETHIOPIA]
APEX  ZERO [英国 UK]
ZULU BOB [安提瓜岛 ANTIGUA]
RADDAM RAS  [中国 CHINA]
GENERAL HUGE [法国 FRANCE]
SOLGI [巴哈马群岛 BAHAMAS]
RAWHX VAN MARLEY [赞比亚 ZAMBIA]
JACKSON TURNER [纽约 NEW YORK]
The hotter than ever – IMCG Productions & Ultimate Band Crew present "Distant relatives Reggae meets Hip-hop Part lll", an authentic live music event featuring the international artists (DJs and Bands singing performance) from all over the world.
Beijing is an amazing and strange place where underground music is always at its best. That's how Distant Relatives project was born, because, yes, Hip-Hop and Reggae are distant but related musical genres, and musicians in Beijing usually come from different places, but they're still enjoying music together. Distant Relatives is bringing different cultures, different opinions on two different musical genres, for one night of unity. A night where you can see some of the best performers of both genres in Beijing unified under a same venue: Yugong Yishan.
This live event will be a crazy and unforgettable one ! Join us for the Show! One Love!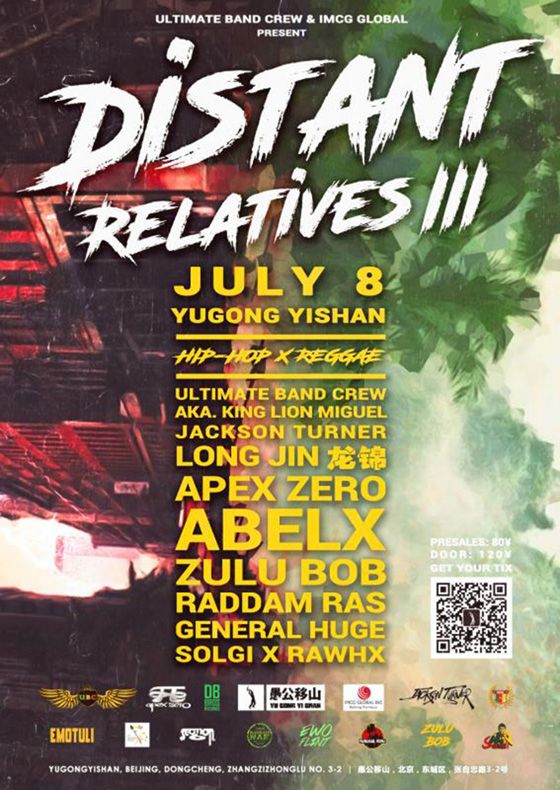 Start:

Tickets:

Rmb 120 (door) / 80 (presale | on a first-come-first-serve-basis)