DEFAULT [Beijing] / THE CHEERS CHEERS [Zhenjiang] / SCHOOLGIRL BYEBYE [Nanjiang] / THE WHITE TULIPS [Xiamen]
Express is a showcase series that features some of the best acclaimed Indie-rock bands from China. This time the Express is arriving in Beijing for the first time. HazeSounds together with Shengjian Records elaborately picked 4 bands from different cities: Default (Beijing), The Cheers Cheers (Shanghai), Schoolgirl Byebye (Nanjing), The White Tulips (Xiamen).
Default: Formed in Beijing, A normal band in a normal basement. Shot the gun, gaze your sun. Shoegaze, noise-dreampop.
The Cheers Cheers is the solo project of Wang Keguan, the former frontman of the Shaoxing based Dream-Pop band City Flanker. The guitarist and bassist of the Shanghai shoegaze band Soft will be joining on this gig.
Started in the summer of 2015, Schoolgirl Byebye was initiated by the guitarist Yangyue of "From the red", and later joined the bassist Lijin of "Old Doll" and the drummer Gengsheng, "Schoolgirl Byebye" became an eternal legendary rock band. Apart from the common taste in music, the credits of the band's forming up has to go large scale to the fact that they all feel disgusted towards anything cute, warm, and fresh, though they are indeed a fantastic "Indie" band.
The White Tulips (TWT) were formed back in 2012 in Xiamen and soon showed their creativity in Noise-Pop/Shoegaze. With the releasing of three EPs and one album, their music is widely spread in the underground music scene via internet and radio both in China and overseas. In the summer of 2016 after some member changes, they secured the current line-up. TWT's music combines various freak styles and brings the audience a unique island romance.
Tickets online: https://yoopay.cn/event/ygys20170702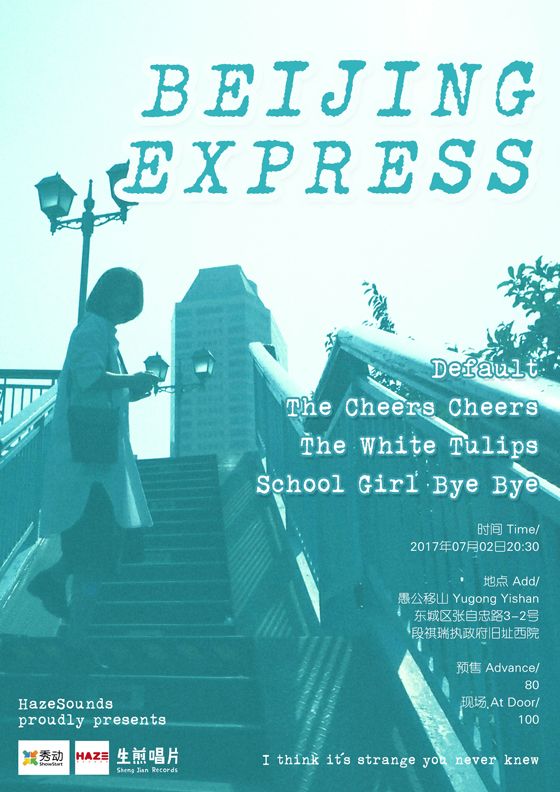 Start:

Tickets:

Rmb 100 (door) / 80 (presage |  on a first-come-first-serve-basis)