WANG WEN / SNAPLINE / WHITE+ / AFTER ARGUMENT / RUDRA'S SAGE
Wang Wen [Post Rock]
Wangwen, established in 1999 in Dalian, is presently the most experienced and arguably the best Post Rock band. They are certainly one of the most hard-working band in China, released 6 album, 1 Split compilation, and 1 B-Side album in the last 10 years. After its meeting with legendary bands such as Mogwai, Mono, Wangwen's performance becomes evermore fascinating; two times European tour also enhanced their control of the atmosphere. Wangwen is recognized as the leader of Chinese Post Rock/Instrumental Rock.
Snapline [Post Punk]
Snapline is the important representative of Beijing underground avant-garde band. It, with resemblance to Joy Division and The Cure, is formed in 2001 by Chen Xi, Li Qing, Li Weisi. Two Lis are also original members of Carsick Cars. Snapline has been acknowledged as one of the best band in China as early as 2007. Their performance is full of calmness and confidence, with Chen Xi's voice adding a hint of delightfulness and a sort of enigmatic charisma. Fans say their 1234 is the best 1234.
White+ [Noise / Electronic]
White+ is established by Zhang Shouwang, vocal/guitarist of Carsick Cars, and Wang Xu, genius drummer of Gar, in 2010. They call themselves hardware electronic band: Shouwang take cares of effects, vocal, modified electronic piano, and strange noises coming from strange machines, while Wang Xu is responsible for all the percussion, drum samples, and all his unlimited imaginations. Spectacular and minimal is their music.
After Argument [Post Punk]
After is formed by P.K.14 vocal/guitarist Yang Haisong and Zaza from Eyes Behind. Their live performance is proudly shadowed by P.K.14. They released digital EP End of the Road in 2011. They can be considered as a reduced, essentialized P.K.14, both the lyrics and the drummings aiming directly at your heart. They are presently recording their first full length album.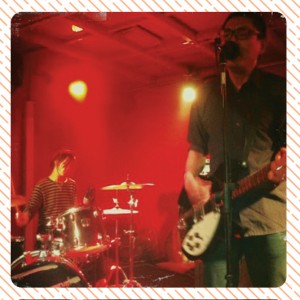 Rudra's sage [Sitar /Guitar / Psychedelic Folk]
Rudra's Sage, avant-garde musician, born Raymond Fulgar. He has already released two solo albums. He is a master of sitar, guitar, and harp. He is influenced by Pink Floyd, The Byrds, Procol Harum and psychedelic bands alike from the 60s. He settled in Beijing in 2003, and he collaborates frequently with Mexican musician TATO. Now he lives in Dali.
 Tickets online: http://yugongyishantickets.taobao.com/ ;http://www.douban.com/event/18831089/
Presale Tickets locations: Yugong Yishan; Houhai Rockland [No.2, Nanguanfang Hutong, Houhai, 13810367674]; 69cafe [No.109, Nanluoguxiang, 010-64032869]
Start:

Tickets:

Rmb 120 / 100 (presale | 前两百名送纪念T恤)