PIERRE FAVRE & SAMUEL BLASER
Pierre Favre
Pierre Favre was born in Le Locle in the Swiss canton of Jura. He first performed as a professional musician at the age of 17 following self-taught percussion play since the age of 15. Although his initial contact with jazz music was Be-Bop, he later played in various older styles such as New-Orleans and Dixieland. Towards the end of the 60s, Pierre Favre developed a new melodious concept for percussion. Based on the conventional percussion unit, he began to change his instrument. It became an independent and standalone sound source actually producing orchestral sound qualities during solo concerts. In the early 70s, Pierre Favre followed a new path that was to make him famous for his originality. Without being particularly aware of it, Pierre Favre's play adapted more and more to that of an orchestral whole. Favre's solos have nothing in common with the ostentatious virtuosity executed by the great percussionists to demonstrate their brilliant style and skills in accompaniment. Favre, on the contrary, has a personal musical vision: it is the vision of a percussive sound and additionally of an orchestral percussion – to be understood in the same sense as a piano sonata. He has performed in solo concerts all over the world and played together with musicians from Africa, India, China, Korea and Brazil. And still Favre remained in very close contact with the European music. Pierre Favre is also devoted to composition. He has written for his own projects, symphony orchestras and modern music ensembles, as well as for theaters and dancers. He holds courses in rhythm.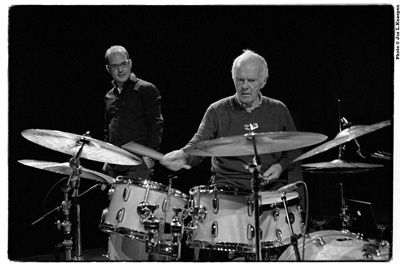 Samuel Blaser
Swiss trombonist Samuel Blaser works the fertile ground between hard bop and free jazz. A musical globetrotter, based for years in New York, he has now become part of the Berlin jazz scene. The most renowned project of his rich career is undoubtedly Consort in Motion, a mix of jazz improv, Renaissance and Baroque music, realised in trio with bassist Thomas Morgan and legendary American drummer the late Paul Motian.
In today's duo he is working with another iconic drummer, his 75-year-old compatriot Pierre Favre. The list of musicians Favre has worked with reads like an encyclopaedia of European jazz. It includes such illustrious names as American pianist Mal Waldron and the above mentioned Paul Motian. Together, Blaser and Favre guarantee us two generations of European top talent.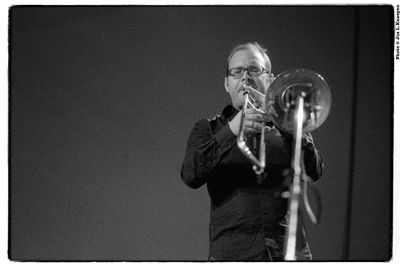 Start:

Tickets:

Pm 9:30 // Rmb 100 (door) / 80 (presale)