SHORTLY after their birth in 2001, Sheffield based 4-piece 65DAYSOFSTATIC has become the most unique and promising formula in Post-Rock circle. HOW? Well, It's almost like Aphex Twin lap-dancing with Explosions In The Sky hand in hand laughing, adding an over-dosed electro seasoning plus so many other flavors that you couldn't even name them.65DAYSOFSTATIC has something more than just glitch tempos and Math-Rock's hang-over side effects to offer you, also 65DAYSOFSTATIC is creating an illuminating illusion in their wall of sound, you wouldn't be able to tell if they are gonna cut you loose or tie you up in their magnetic static universe. Oddly enough, it doesn't sound odd in 65DAYSOFSTATIC at all.
SO here are reasons why you should see 65DAYSOFSTATIC live.They have already been to festivals including Summersonic, SXSW and Sonisphere, leaving a series of crazy n' dizzy bunch with their tizzy n' fuzzy punch. Followed by numerous sold-out shows in Singapore and Taiwan, leaving more numerous crazy yet dizzy bunch after their sets.They have been working with Robert Smith (yes,The Cure frontman) together on single "Come To Me" since Mr. Robert Smith himself found 65DAYSOFSTATIC is exactly what they called a triggered emotion bomb. Hang on one sec, did someone just mention "emotions"? Coz 65DAYSOFSTATIC has constantly spent their emotions on writing concept music and film scores to return their favor of all those classic sci-fi movies. Go check their webpage at www.65daysofstatic.com and download their whole new best-of "The Last Dance", you will probably realise what we meant.
AND what we really meant above all these, is that 65DAYSOFSTATIC is going to have their very debut China mini-tour in January of 2013.First Shanghai(1/12) then Beijing(1/13).That is to say, 65DAYSOFSTATIC is going to happily throw a dual forget-where-you-think-you-belong-and-kiss-your-butt-goodbye party. If the party title somehow confuses you,try to take it this way, 65DAYSOFSTATIC will use their performance to turn you on or shut you down (more likely at the same time), either way, you have no idea of how high you could get…until you see that happen with your own mind's eye.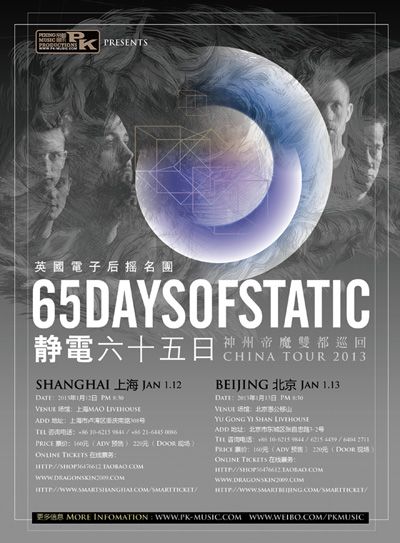 Start:

Tickets:

Rmb 220 / 160 (presale)