Soon after The Gar's last album release, three years ago, their bass player Wen Jie left the band, which deeply affected the band members' musical work and life as a whole. This period of time served as an inspiration for The Gar's most recent work, namely"爱, 终将把青春遗漏 / Ai, Zhong Jiang Ba Qing Chun Yi Lou", "火车 / Train", "夜尽头 / Ye Jin Tou" and "空洞 / Kong Dong" but it wasn't until Bo Xuan joined The Gar that the band was truly complete and back on track again. After nearly a year of picking their brains, digesting and starting to make music again, The Gar put together "Lights", their new EP, for which the producer invited the drummer of Qingxing band and famous Chinese producer Guo Yibei. The EP will be released on Maybe Mars records shortly.
Since the release of "生之爱 / Sheng Zhi Ai", The Gar's music has clearly started to undergo a change. Thanks to the ample musical experience of the new bassist Bo Xuan and drummer Wang Xu, The Gar's sound turned more calm and orderly and even a shade clearer. The singer Zhan Pan also started using his voice differently thus distancing his singing style greatly from the previous records. As a result, loyal fans of The Gar might find these developments shocking, while those who listen to their music for the first time will be impressed by the uniqueness that distinguishes The Gar from the sound of other urban bands.
All this stems from the band members' change in their perception of urban life. Metaphorically speaking, three years ago, The Gar was on a train that was speeding out of control, but now it is as if the band was inviting us to board that train to lead us out of the city and away from the inertia of urban life, forcing us to "pull out of the collective unconscious"and face ourselves, face the "mutual boredom of memory and fantasy".
The lyrics on their new EP "Lights"have gone from concrete to abstract. In each one of their new songs the words "night" or "evening" inevitably crop up. With this EP, The Gar has gotten one step closer to making us turn inwards, towards a visible but not reachable end, instead of focusing on the outside world.
The Gar will start their China Tour on September 7th, it has been two years since their last tour.
During this tour, The Gar, although staying away from the literal understanding of exile, will capture their fans with a so-called real self-imposed exile in the city centre.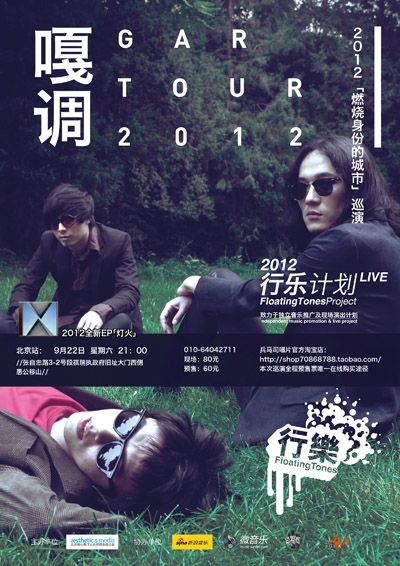 Start:

Tickets:

Rmb 80 / 60 (presale)