Guest bands: CDC [US], THE FALLING
The album was produced by Ben Humphreys and Architects with additional help from John Mitchell at Outhouse Studios in Reading while Paul Jackson (Tank.Axe.Love) created the striking artwork.
To sum up, "Daybreaker" is a sweeping show of strength in terms of how intense, colourful, dynamic and multifarious modern metal can actually be. Brighton's ARCHITECTS just refuse to sit still and rest on their laurels. While it takes other bands years to even write a record, ARCHITECTS released "The Here And Now", wrote "Daybreaker", toured the globe with their friends in Bring Me The Horizon (Europe, UK, North America) and Parkway Drive (UK, North America), they headlined the UK twice (December '11 and April '12) and played countless high profile European festivals (Reading/Leeds, Rock am Ring/im  Park, Nova Rock, Hellfest, Sonisphere, just to mention a few). Right after wrapping up the recording of "Daybreaker" they got back into the bus to be direct support for Rise Against and played in front of up to 10.000+ people a night. Even though the acclaimed "The Here And Now" got them daytime radio and TV rotation in their native UK, the band felt it was time to shed their collective skins and reinvent themselves with an amalgamation of their very best trademark. They felt it was time to make a bold statement.
"I liked the idea of a new start, not just with our band but with our collective global consciousness", says guitarist Tom Searle.  "There's corruption and injustice everywhere, we're no experts but we're learning all the time. This record is the sound of us trying to make sense of it all. All you have to do is read the news, people are waking up to this all over the world right now, it's a scary but fascinating time to be alive." Hold on a second  are we talking about the same ARCHITECTS here? If so, since when do singer Sam Carter and his bandmates address social and political issues in their music? Since now actually. While "Hollow Crown" was streaked by teenage angst and "The Here And Now" honeycombed with an obliged appreciation of what the band was privileged to do for a living, "Daybreaker" marks a lyrical departure for ARCHITECTS. "We're angry again but I suppose we're angry adults now rather than angry kids", explains Tom. "The lyrics on our previous records have covered personal issues, but I think it's time we opened ourselves up to the bigger picture. We're all so self obsessed. If you're singing about your girlfriend breaking up with you, then you don't have any problems. Most people on planet earth aren't lucky enough to call that a problem."
Ripened in Brighton and driven by a passionate endeavour for a fresh, intense metal sound, ARCHITECTS set out in 2004 when Tom and his drummer brother Dan gathered some eager and like-minded guys around them. ARCHITECTS released their fierce debut album "Nightmares" in 2006. A schedule of non-stop touring saw the band mature and evolve whilst carving out their fan base in the UK. Their following albums "Ruin", "Hollow Crown" and "The Here And Now" put the Brighton quintet on the map of modern metal and saw their music spread across the globe.
On "Daybreaker" ARCHITECTS succeeded in flexing their muscles: From the moodily brooding, antithetic opener "The Bitter End", the furious, uncompromising rawness of "Alpha Omega" and "Even If You Win, You're Still A Rat" (guest vocals by Oliver Sykes / Bring Me The Horizon) to the down-tuned brute force of "These Colours Don't Run", the heart wrenching "Truth Be Told" and the eerie, ethereal "Behind The Throne" (Tom: "We have never done a song like this before."). The album closes with the bittersweet final crescendo "Unbeliever" you will have to look thoroughly for a metal album as dynamic and versatile as ARCHITECTS' "Daybreaker".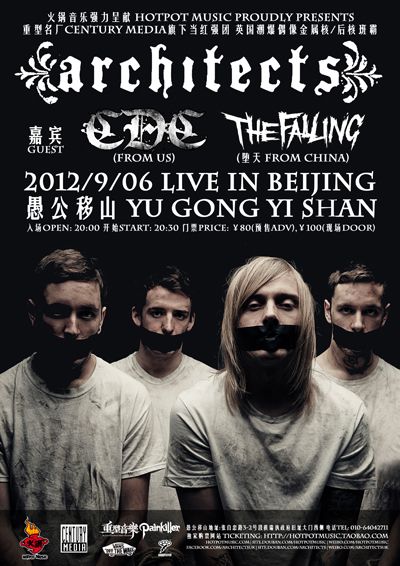 Start:

Tickets:

Rmb 100 / 80 (presale) Tickets online: http://hotpotmusic.taobao.com