SILENT SPEECH / SNSOS / GLOW CURVE
Silent Speech
The purpose of a speech, is to inform, influence, or entertain a live audience at the right place and time. However, many "speeches" are merely for the speakers' self-amusement, we remain "silent".
SNSOS
She Never Sings Our Songs is a 4-piece band based in Beijing, established in the spring of 2014. The members are fond of math-rock style as well as hardcore, electro, noise etc.
Always being willing to find new ways to express themselves.
Glow Curve
Since founded in 2011, it has been active in the music festival and the music scene. 2012 contracted modern sky, single "the Milky Way revolution plan" included in the "Modern Sky 7" compilation album, in 2013 the first album "Trek" and held a China tour. In 2015, the "black Games" China tour box office until double, created more than the imagination. Not only is the latest gleam of the modern sky, but it is also the latest curve of Chinese rock music.
Human's voices, in Glow Curve's music, are only regarded as a musical instrument, only at the appropriate time, with complex logic and abundant emotion building soundscapes, new music elements not absorbed, each note the context are full of passion, imagination, energy, crazy; as if into a movie or a dream. With the development of architecture or philosophy to describe the light curve of the music is best.
Four pieces of musical rock solid build sophisticated thinking space, informal structure, interwoven in the minimalist architecture, poetry and philosophy in the lyrics of exquisite overlap, continuation of the progressive rock music context, and exudes a painting like Oriental characteristics. The lyrics reflect the true portrayal of the society, the yearning for and fear of the unknown, and the nonsense of the language that transcends the human language. When the rational and cool logic and rock Hot Sensitive collision, spraying unspeakable sense of hearing.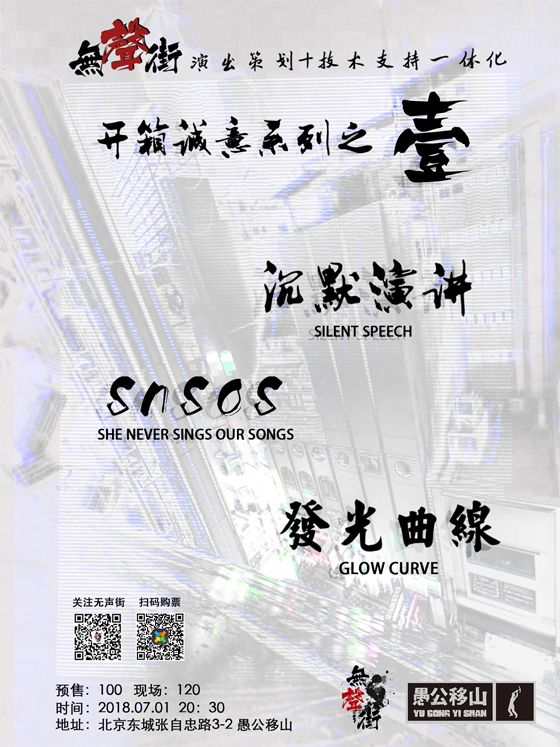 Start:

20:30

Tickets:

Rmb 120 (door) / 100 (presale | on a first-come-first-serve-basis)