Guest:FUTURE ORIENTS
Life…death…friendship…regret…apologies…weird chats with cab drivers…biscuits. All are addressed to various degrees on the second album by Hiperson, 'She Came Back from the Square', which marks the return of China's best contemporary bands, fully invigorated and ready to talk in depth about crunchy snack-based metaphors.
Chen Sijiang, who has established herself as an enig-magnetic presence front of stage since Hiperson began gigging in 2012, is prone to oblique explanations of her band's dark, beguiling music. But 'She Came Back from The Square', the follow-up to the band's 2015 debut album 'No Need for Another History', is no obtusely twisty art-rock album. It's got depth, sure, but also contains the most bloody-steak-raw, direct songs the five-piece have ever released.
Musical touchpoints for the band included The Viking of Sixth Avenue: the posthumous compilation album by the blind, homeless and heavily-bearded US multi-insturmentalist Moondog. The squalling saxophone squeal of 'History', meanwhile, is likely a byproduct of Chen obsessively listening to Norwegian jazz musician Jan Garbarek. Steve Reich, Akio Suzuki and Sebadoh are other artists the singer reels off when asked about the deep well of influences the band drank from when recording the new album.
Hiperson
Hiperson is a five-piece rock band from Chengdu, China. Unlike previous generations of Chinese musicians, these twenty-somethings reject the shackles of recent history, harkening back to the essential, sensitive, poetic golden age of rock'n'roll. Their temperament of refreshing simplicity has led Hiperson on a path of rapid achievement.
In the second decade of the 21st century, Hiperson has become the leader of a new generation of Chinese rock musicians beginning to revisit the expressive charm of their native tongue. The band's frankly honest lyrics lead the listener to the edge of danger, through landscapes of cold reality, oscillating between daily life and illusion.
Facebook: https://www.facebook.com/haipengsen/
Future Orients
Future Orients is influenced by Psychedelic Rock, Krautrock and Dance Punk, and tries to explore and experiment within traditional rock 'n' roll structure. They like to play nice poppy tunes, but also tricks. Like their name, Future Orients, showing their ambition: they don't want to simply imitate western music but try to create a sound originating from the east. That is not easy, but the four young lads are ready to do that.
Facebook: https://www.facebook.com/futureorients/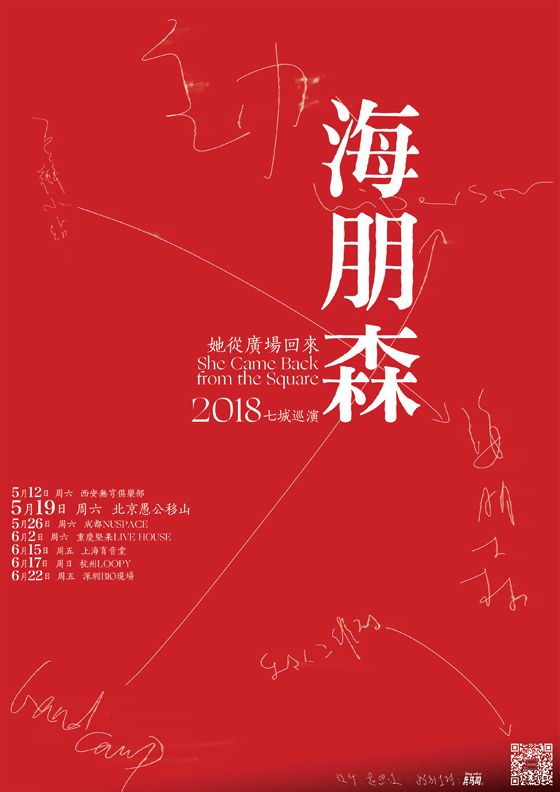 Start:

21:30

Tickets:

Rmb 100(door) / 80 (presale | on a first-come-first-serve-basis)