SOLD OUT!
"One of the most consistently adored guitar bands of the past decade" – NME

Hey Scenesters. Hey, hey scenesters!
After a raucous, joyous outing at Concrete & Grass 2016, the New Fellas are coming back to the mainland, bringing with them their delirious, delicious indie punk greatness, and some of music's greatest sing-along choruses. Four-city tour: they're going deep.
Things You Should Be Knowing: It's been long established that the Cribs are criminally misunderstood and massively underrated, despite a huge global fanbase and headlining slots at major festivals.  Over seven albums, they've become nothing less than the UK's cult indie rock godfathers. The patron saints of power pop, writing timeless, brilliant, roaring songs.
"The Velvet Underground never sold that many albums," The Independent once wrote, "but everyone who did went on to start a band. The Cribs are that sort of band."
Come on down and get caught up. Sunday 13th May – Beijing (Yugong Yishan). w/ The Twenties on support. 180 RMB presale.
It's a Simple Story. The Cribs arrived on the scene in 2003 with a DIY, never-say-die attitude and they've not let up since, literally bleeding for the cause at some of the most chaotic and thrilling gigs of the past decade.
10 years in, and they're incapable of making a bad album. Ask a Cribs fan what their best record is and prepare to argue into the night. From the jangly power pop of Men's Needs, Women's Needs, Whatever to the full-blown fuzziness of In the Belly of the Brazen Bull.
24/7 Rock Star Shit, their seventh full-length, was recorded with Steve Albini, and represents a return to their scrappy punk roots after 2015's (just-as-good) For All My Sisters, with had a glossy pop sheen.
The brothers Jarman are one of the most energetic and passionate groups in British music, with the no-frills attitude and punk-rock ethos to match. Their integrity and spontaneity has been a shining beacon of hope in a hyper-commercial industry. A sign, if more were needed, that these three were special:
"We never wanted to be rock stars – that was always the anathema and it were never a virtue to be like that. The people that wanted to be rock stars were always the ones you laughed at. We have always believed in sincerity, humility and being honest."
There's going to be big choruses, hand waves and screams for more. Morse-code guitar riffs, new-wave drumbeats and thick-accented shout-speak. Some of the most memorable lyrics in indie-punk history.
We can't wait. First Concrete & Grass warmup gig this year. The Cribs are back in China.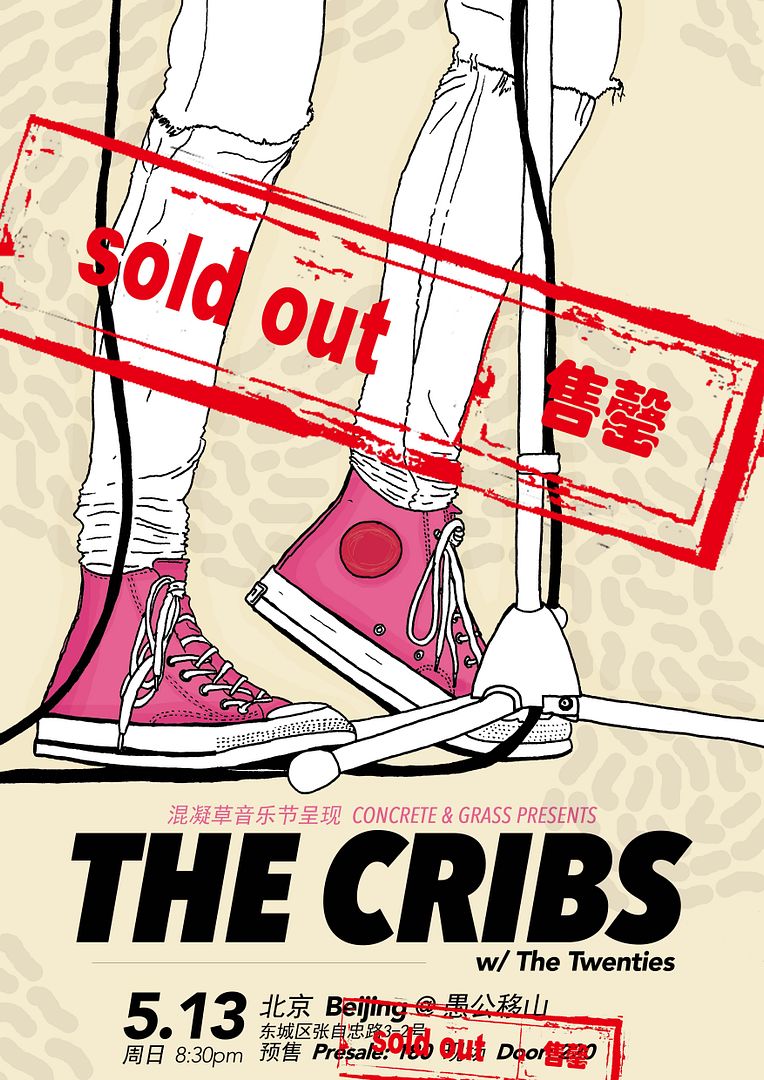 Start:

20:30

Tickets:

sold out