Since 2012, the Beijing boy "Gao Funk" GaoFeng Pan started to host a big party of Funk and Soul music with his musician friends in YUGONG YISHAN live house every year. This annual party represents the best funk and soul live band show in town.
5 years ago, GaoFeng and his band G-ELEVEN hosted its first show for their first album releasing. 5 years after, on 12/22/2017, he is back with his second album "Urban Soul" to share his view about dream, love and souls in this city via music. The documentary movie clip of the album will be also released at that date.
Beyond releasing the second album, 12/22/2017 will be the 12th anniversary of the formation of G-ELEVEN. The whole band will get on the stage for the celebration show and Gao Funk's friends will also join the party including BeiBei, the drummer of famous Chinese pop singer Feng Wang and Faye Wang; ShaoHua Ding and Jazz guitarist Jun Xiao.
About <Urban City>
"Sing My Song" performer, song writer "Gao Funk" GaoFeng Pan just released his second album "Urban City". As the final stage of his China tour, GaoFeng will show the crowd his work with the funk band G-ELEVEN at YUGONGYISHAN on Dec. 22nd. The entire crew for producing this album including BeiBei, Yang Han, Yun Han, Kin Lee, YanChao Li, Zi Wang, TianChe Zhou, Jing Zhao and You Li.
As one of the best song writer/ producer/ guitarist,
GaoFeng want to use the album to express every souls' voice in the city by mixing
funk, blues and soul styles in his music. The new album "Urban Soul" spreads
fast with great feedbacks in China.
About "GaoFunk" GaoFeng Pan
GaoFeng Pan, Male, born in 1986 Beijing, singer/ song writer/ guitarist/ producer. GaoFeng learnt painting in his childhood, started to learn drums in 1999 and guitar in 2002, he formed his first band in 2003. He formed funk band G-ELEVEN in 2005 during his college and became the vocalist and guitarist for his band. Champion of Levi's Band Competition/ Yamaha Asian Beat Band Competition/ HuaWei Music Award. Attended Red Bull New Energy Project in 2010. Released 1st Funk/R&B album "GaoFunk and G-ELEVEN" in 2012, won Abilu best Jazz musician award in 2013. GaoFeng joined "Sing My Song" 2nd season in 2015 and received 3 out 4 straight passes by showing his song "Tempo Love". Signed D'Addario in 2017. Released 2nd Album "Urban Love" in Oct. 2017. GaoFeng produced several songs for other pop singer and movies, he is also working as a guest DJ in China Radio International.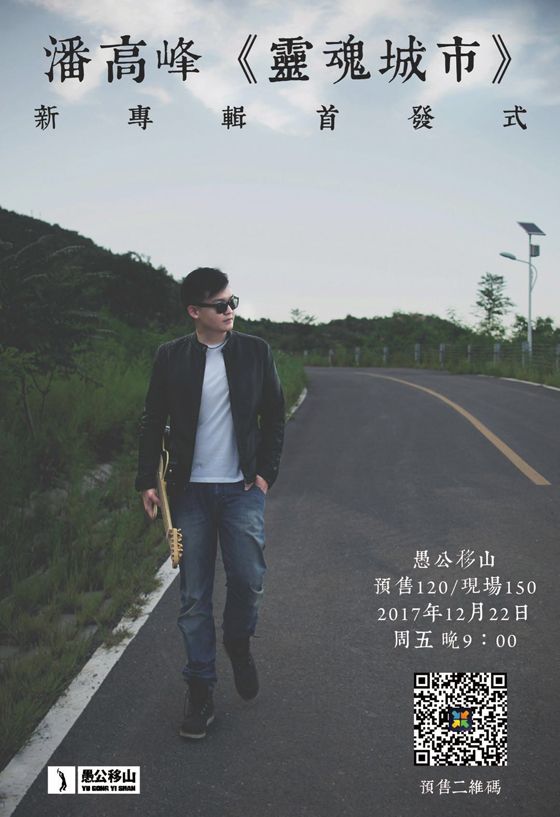 Start:

Tickets:

Rmb 150 (door) / 120 (presale | on a first-come-first-serve-basis)