"A sublime iteration of the desert blues that's both authentic and ambitious." – Pitchfork 
"Ali Farka Touré [meets] Carlos Santana, Mark Knopfler, Jerry Garcia electric and Jerry Garcia acoustic. Bombino is never just one thing." – The New York Times
Take a man from the Western Sahara. 
Give him a mesmerizing "honey-and-sand" voice, and a virtuoso skill with the guitar.
What happens when he goes on a journey that takes him through rebellions and wars, deserts and famines, tyranny and precarity? Out it comes: dazzling, spectacular music that rings with the stories of his nomadic Tuareg people. Songs that masterfully blend the blues, jazz, reggae, afrobeat and West African rhythms.
That Bombino's music even exists is nothing short of a miracle, and to see him live is to witness the power of music in our uncertain times. After Vieux Farka Toure and TINARIWEN, we're excited to present a China debut for Niger's own rock'n'roll hero in collaboration with the Shanghai Symphony Orchestra (SSO).
Five-city tour, Shanghai, Beijing, Changsha, Shenzhen and Guangzhou.
The Western Sahara's most promising guitar hero (and biggest Dire Straits fan) is the perfect match of sound and soul. 
His early life is the stuff of a thousand tales, and an extraordinary journey through hardships and strife. His musical breakthrough came in 2006, when a 26-year old Bombino traveled to the U.S. to record a session (with The Rolling Stones' Keith Richards and Charlie Watts, no less).
Later that year, Bombino served as Angelina Jolie's guide to the Niger desert region, playing her the music of the Tuareg. His self-recorded cassette tapes were beginning to mark him as a musical name to watch in the region. One of these tapes got the attention of filmmaker Ron Wyman, who traveled to meet Bombino in 2009 – a meeting that resulted in the album that put him on the map – Agadez.
In 2013, Bombino released Nomad, produced by the Grammy Award-winning Dan Auerbach of The Black Keys. It debuted at #1 on the Billboard World Music album chart and iTunes World charts, paving the way for a string of global tours and universal acclaim. 2016 saw the follow-up Azel, produced by Dave Longstreth of the Dirty Projectors. It's Bombino's best, most well-rounded, and groundbreaking album to date.
We're excited beyond words to present Bombino in China. Four thousand years of Tuareg culture ring through his six-strings. Join us for a trip into history, and into the desert sands.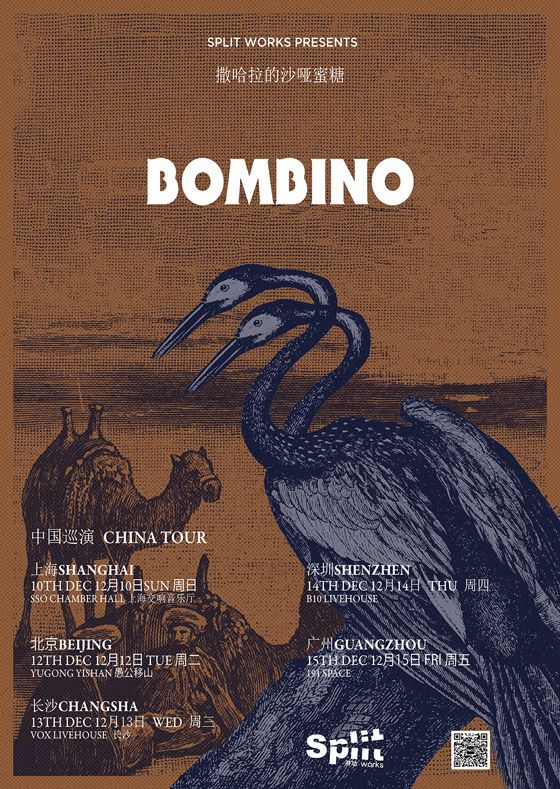 Start:

Tickets:

Rmb 150 (door) / 120 (presale | stops at midnight on Dec. 11th, or on a first-come-first-serve-basis)