That's right, School is once again teaming up with the finest live house in Beijing – Yugong Yishan. This time, on the first Friday of December, we will be bringing you an alcohol soaked night at Yugong, full of some of the best bands in town.
Casino Demon, featuring School co-founder Liu Hao, will be making a triumphant return to the Yugong Yishan stage after a year long hiatus. This event is not called 'No Hangover Club' for no reason. It is intended to be a meeting place for true ethanol enthusiasts. Casino Demon definitely holds a claim to being the most formidable band of drinkers in present-day Beijing.
Joining them will be Penicillin, who with their average age of only 22 are reckoned by some to represent the future of Beijing rock and roll. Highly regarded in the local music scene, they are coming in hot on the heels of a September performance at Yugong Yishan in which they played to audience of 700 happy punters. Despite their young age, their love of anything alcoholic has already gained them fame across the city.
Last up we have AJ, who represents a more mainstream sound than either of the other bands. His sound, which ranges somewhere between Folk and Indie rock, is a favorite of national Chinese TV shows, but this respectable appearance can only barely mask the fact that his alcohol habits are perhaps even more extreme than his drinking partners from Casino Demons and Penicillin. I mean, he comes from Kalamayi in Xinjiang: does need anything more be said about his drinking pedigree?
On the first weekend of December come and get drunk to celebrate the coming of the last month of 2017. See you there.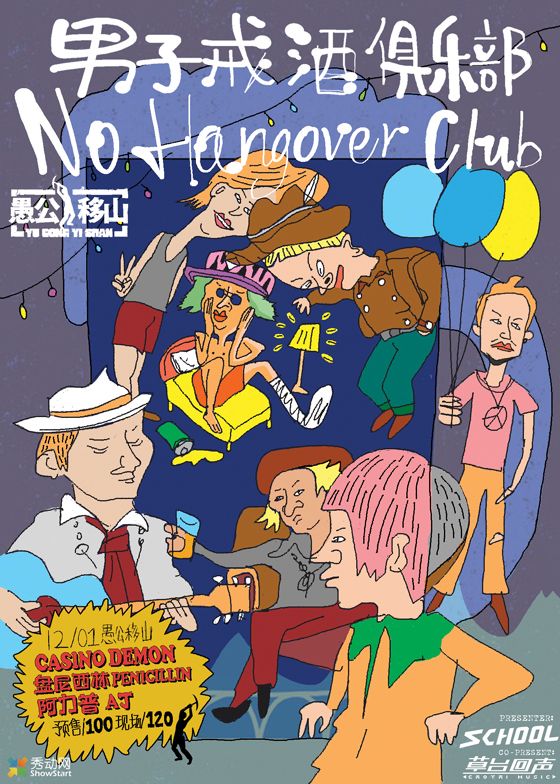 Start:

Tickets:

Rmb 120 (door) / 100 (presale | on a first-come-first-serve-basis)