" addictive and unique sound." –When The Gramophone Rings
 "allow these Swedish pop-rockers to sweep you up with their pop hits." – The Indie Sound
—————————————————————————————————————-
First attracting worldwide attention with a self-produced hit "D-D-Dance" — which introduced their Phoenix-like mix of sunny pop and electronic elements — Stockholm's indie dance-rockers the Royal Concept (originally billed as The Concept) feature vocalist/guitarist David Larson, guitarist Filip Bekic, bassist Magnus Robert, and drummer Frans Povel. Their sun-soaked flavor, upbeat swing, and uncontainable energy made an impression on the Swedish live music scene, peaking in the summer of 2011 at the Peace & Love festival, after getting support from the Swedish national radio channel P3.
Early in 2012, the band changed its name to The Royal Concept, signing to Lava Records and releasing their self-titled EP in June. They also released their tracks "World on Fire" and "Naked and Dumb", followed by a fall tour in the US opening for The Wombats. Their single "Goldrushed" was included in the soundtrack of FIFA 13, and also in NASCAR The Game: Inside Line (along with "In The End"), while "World on Fire" was featured on the soundtrack of MLB 13: The Show.
In 2013, the band released the single "On Our Way", and announced the title of their debut album, Goldrushed, followed by a tour around North America. "On Our Way" is one of the songs featured in EA Sports's football game FIFA 14, and has been one of the players' most favorite songs. It was also covered by the cast of Glee in the Season 5 episode "The End of Twerk" and was also used several episodes of MTV series Big Tips Texas, Generation Cryo and Catfish: The TV Show.
Produced by Tony Hoffer (who previously worked with acts such as M83, the Kooks, and Depeche Mode) and released in 2015, the Smile EP saw the group take a glam-inspired change of direction. This time around, the boys used their two years on the road to infuse that live experience into the new songs.
Audio Links:
https://soundcloud.com/the-concept-band
Video Links:
https://www.youtube.com/watch?v=nWyhUoxAbYI (On our way)
https://www.youtube.com/watch?v=VuMY5TtUtE0  (Smile)
https://www.youtube.com/watch?v=Q_2sOYCh-TA  (Live session)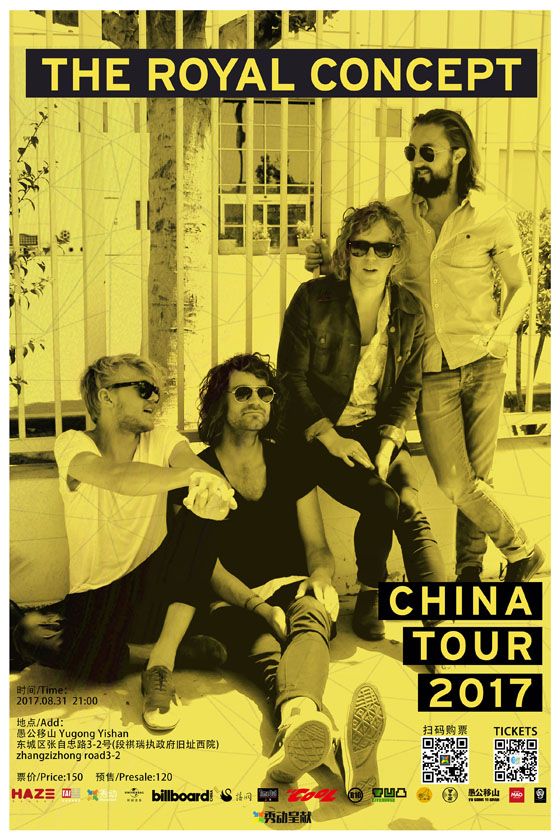 Start:

Tickets:

Rmb 150 (door) / 120 (presale | on a first-come-first-serve-basis)