One Night in Summer, beautiful girls were talking about who was the coolest DJ in the club, and who could bring on the most exciting beats. Drunk men were busy with changing their money into liquor, tried to act as different people; and drowned themselves in the consuming music which is trendiness or obsolete.
Recycle, the band which has appeared in numerous people's adolescence, open the curtain of 2017's summer with an authentic pop punk record, and bring people back to their passionate boyhood and girlhood from the tedious nine-to-five routine. After 16 years, Recycle has grown to an more mature band, however, they have still retained their original passion of Rock N Roll. In the new ablum, they hit their road with "3000 KM", resist the confusion in time with the illusions in youth.
From Kaixinleyuan to the Wuliao Contingent, and to the Sream Club, all these historical keywords were recurred in this album "The Last Favorite Kid of the Family". All rock kids at that time have settled down in their new social position except for Recycle, who still continue their passion of the Rock N Roll in their gentle way.
Different from western punk band, Recycle has shown their ingenious perspective towards pop punk in this album with both solemnity and absurdity as a local Beijing band. The track "Call Me Daddy pt.2" has taunted the current situation of chinese pop music business, and with the featuring of Liang liang from Twist machine, they have elevated the kind of tease to indignant satire.
"Who has left unexpectedly, and should I keep on waiting." " Can not get away from those unpredictable encounter till being insensibly buried by the time." These words directly touch people's heart when they comes from an ignorant boy who has been sharpen by life and grown to a man. 2017 is the 20th anniversary of Chinese punk, Recycle has reviewed their 20 years with this ablum.
On the folder of the new album, an black swan stayed away from white swans and gazed at the world contemplatively with shape eyes. In eastern culture, swans are the symbol of purity, dignity and faithfulness; based on this, every one will have their own understanding towards the folder.
Recycle has been grouping for 16 years, and all members has dedicated their surging puberty to Rock N Roll. "The Last Favorite Kid of the Family"is the ode to their youth, also is the conclusion of their past as well as the fresh start to their future. Those kids stood on the skatebords with guitar on their back are named Recycle.
The new ablum will be globally released and distributed by Sony Music. Recycle also has announced their 2017 summer tour around 18 cities in mainland china.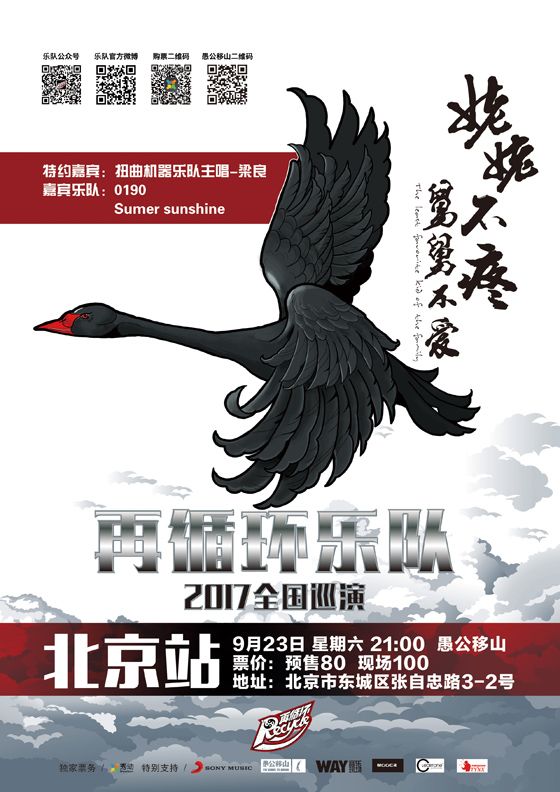 Start:

21:00

Tickets:

Rmb 100 (door) / 80 (presale | on a first-come-first-serve-basis)