SOLD OUT!!
NO MORE TICKETS ARE AVAILABLE AT DOOR!!
Since Rachael Yamagata first broke onto the music scene with her critically acclaimed debut album Happenstance, she has shed her skin as the "troubadour of heartbreak", emerging with an edge-laden sound characterized by universal themes of perseverance, compassion, and owning your own power. Autumn 2016 Rachael Yamagata releases her new album Tightrope Walker, via Frankenfish Records/Thirty Tigers worldwide and went on the road as far as China. Her career has been punctuated by 3 previous albums, 5 EP releases and various collaborations with the likes of Ryan Adams, Bat for Lashes and Ray LaMontagne, but the Virginian singer-songwriter chose to challenge herself thematically with this new album. This decision was, in part, induced by Philippe Petit – the French high-wire artist famed for tightrope walking between the two World Trade Centres in 1974 – who, when asked why he performed such a feat, simply responded 'there is no why'. This notion of inwardly searching for reasons resonated strongly with Yamagata and, as such, her mentality and approach towards writing songs began to shift. As a collection of tracks began to emerge, Tightrope Walker was born.But just as Petit dismissed his 'why', Yamagata embraced and explored hers: Why keep going? Why write? Why persevere? "If you're thinking of quitting" muses Yamagata, "then this album is for you". An album that challenges style and genre as much as themes, Tightrope Walker features a wealth of audible features, some more unusual than others. Saxophones, mandolins, rain recorded on an iPhone, French spoken word, metallic ironing boards and ladder drums, myriad harmonies and loops all signal change and development in Yamagata's songwriting.
"The writer's newfound devotion to experimental soundscapes never gets in the way of just how damn listenable these songs are"
– The Arts Desk
"Classy soul-baring pastorals from upstate New Yorker…a sonically rich experience that repays closer listening… Yamagata's voice is superb at evoking languid heartache… This is an album of immersive and emotive pleasures".
– Uncut
"Yamagata remains an undersung gem. Tightrope Walker is top drawer stuff"
– Daily Mirror
"Her vulnerability has equally exposed her strength and prowess as a singer, songwriter and musician at the top of her game"
– The Girls Are
"Yamagata finds herself in career redefining territory as she could see her propelled into mainstream contender territory"
– Music News
"Upbeat and orchestrally ornamented"  – Rolling Stone
"The singer-songwriter unveils a dark fire burning within her obstinate self."
– Paste
"Along with the bad-assery, Yamagata brings a world-weary passion to her singing. Her voice is a soul-baring, sultry instrument that commands center stage at all times. She has that deliberate, I'll-sing-the-note-when-I'm-ready pacing that helped make Amy Winehouse great, and before her Billie Holliday."
– Associated Press
"Tightrope Walker showed a stronger integration of eclectic elements to Yamagata's sound, pushing her into new, emotional territory."
– Pop Matters
"Rachel Yamagata is an electric presence, one shaped by years of live performing."
– The Entertainment Voice
Her songs have been featured on Altman, The Muppets, Dear John, Grey's Anatomy, How I Met Your Mother, One Tree Hill, Elizabethtown, Vampire Diaries, The L Word, NCIS: New Orleans…
《Over》MV:https://v.qq.com/x/page/y0021qfpb84.html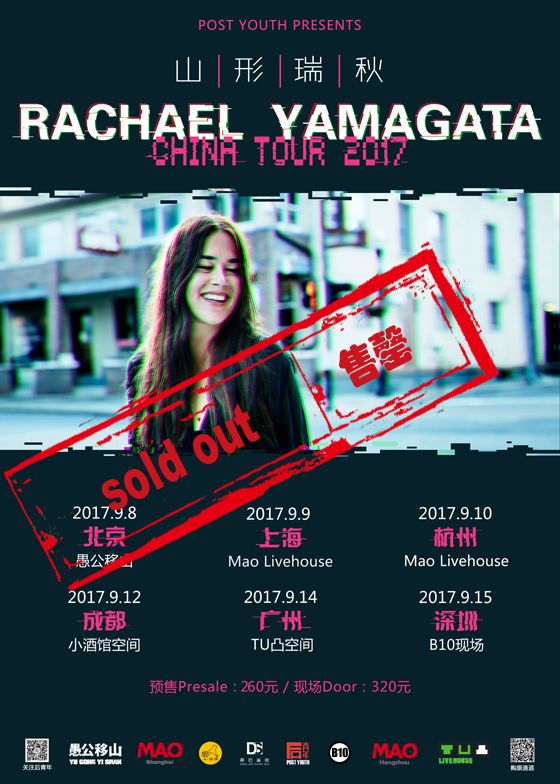 Start:

20:30

Tickets:

SOLD OUT!!