CONVEYER has returned with a new voice on No Future, their brand new album set for release on June 23 via Victory Records.
"Our goal with No Future was to capture the energy and passion of a CONVEYER live show on record," reveals guitarist Ty Brooks. The band recently unleashed a new video for the track "Whetstone," a furious, staunch anthem towards the brokenness of the current world. "This song was inspired by experiencing the hurt and stress that I'm sure a lot of Christians my age have gone through," explains vocalist Danny Adams. "We have all seen how taxing and frustrating dating and serious relationships can be between the religious beliefs of two people, whether too similar or too divided. "Whetstone" is my take on digesting this experience and re-evaluating what I believe on these relationships."
Putting their DIY ethos to the side, CONVEYER entered Silver Bullet Studio in Connecticut with producer Greg Thomas (Shai Hulud, Misery Signals, With Honor) in January 2017. "This was the first record that we have ever worked on with a producer and we couldn't be happier with how it came out. A lot of work went into shaping and re-arranging each song to make them the best that they could be. We are so grateful to him, Chris Teti and everyone else at the studio. We are very proud of No Future and we are looking forward to working on the next record with our family at Silver Bullet."
CONVEYER wrapped up 2016 with a final run behind their Victory Records debut, 2015's When Given Time To Grow, touring with label mates High Hopes, as well as Prophets, Ghost Key, For The Win and others. The band is ready to return to Canada and circle North America performing cuts from No Future live for the very first time. "We can't wait for No Future to be released and to play these songs in as many rooms as we can," promises Brooks.
With nearly 200 shows under their belt since the release of When Given Time To Grown, CONVEYER are still proving why they are one of the hardest working bands of the genre. Currently on the road in advanced support of No Future, catch CONVEYER now through June 24th in a city near you.
https://www.facebook.com/CONVEYER/
BANDCAMP:https://conveyer.bandcamp.com/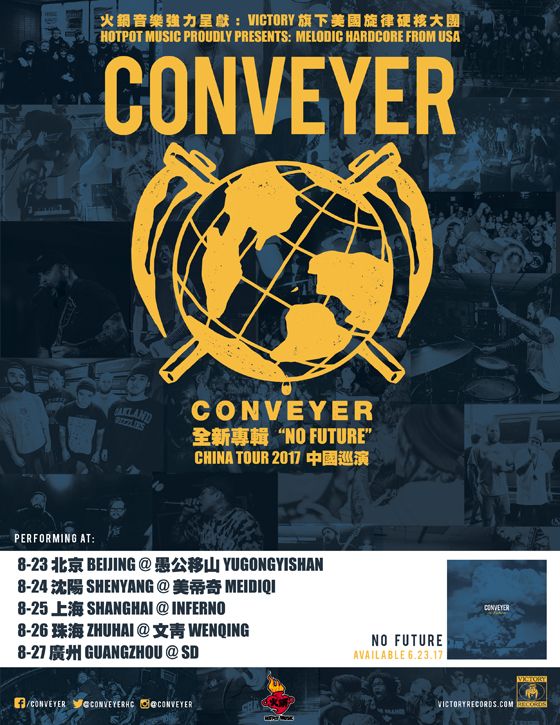 Start:

21:00

Tickets:

Rmb 100 (door) / 80 (presale | on a first-come-first-serve-basis)