Guest:MACONDO
New Noise is thrilled to announce two shows for instrumental four-piece LITE from Japan presenting their new album Cubic. The band is known for their thrilling and emotional compositions, progressive, edgy riffs and complex rhythms. Their explosive live show and tireless touring in the US, Europe and Asia along with worldwide album releases have brought acclaim from all quarters. Lite have played at Fuji Rock Festival and Summer Sonic and headlined ArcTanGent Festival in UK and are widely regarded as one of the most exciting bands to emerge from Japan in the last decade.
The quartet who is entering their 14th year together, boasts a tremendous back catalog with four full-length albums, three mini albums and two EPs including 2010's Illuminate (recorded with John McEntire) and 2012's Past Present Future which featured Caroline from Mice Parade. Their most recent album Installation (2014, Topshelf Records) was their first proper US release.
On their latest release, Cubic, out November 18, 2016 via Topshelf, LITE creates music with a heartbeat. Cubic was mixed at Machines With Magnets with Keith Souza (Battles) and mastered by Heba Kadry (!!!, Prefuse 73, The Mars Volta) at Timeless Mastering in New York.
Tickets online: https://yoopay.cn/event/ygys20170610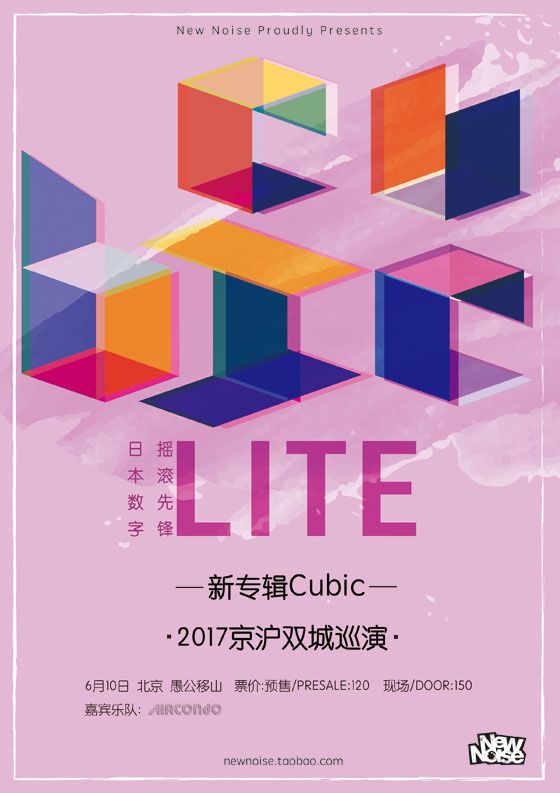 Start:

Tickets:

Rmb 150 (door) / 120 (presale | on a first-come-first-serve-basis)