"Ambitious, cleverly arranged, dense with possible meaning– and, yes, a little strange"
– Pitchfork
All the way from Mississauga, Canada, we are thrilled to present a special Beijing gig for Owen Pallett.
He's a violinist and composer of gorgeous, dizzying songs; soaring violins creating loops that pull listeners into his fantasy world. His take on indie-pop is intricate and layered. Pallett's compositions are universes in miniature, worth exploring time and time again. Case in point: His score for Spike Jonze's Her, nominated for an Oscar in 2014.
Winner of the inaugural Polaris Music Prize, Pallett has a long and illustrious back catalogue under both his birth name and as 'Final Fantasy', his previous moniker. He's worked with Arcade Fire, Mika, The National, Franz Ferdinand and countless others, ranging from forceful krautrock and brutal prog to serene neo-classical compositions.
On stage, Pallett is "moody, majestic, cosmic." Finding "beauty in a blizzard of sound." [The Guardian]. Leading the audience into uncharted musical waters and strange new worlds.
Sunday 23 April 2017 at Beijing's Yugong Yishan. Expect avant-garde orchestral pop at its finest, delivered with quirky, pointed humour.
Owen Pallett's glittering career has been punctuated with collaborations with the likes of Arcade Fire, The National, Mika, Jim Guthrie, Linkin Park and more. He's also worked with The National Ballet of Canada, The Vancouver CBC Orchestra, and the Toronto Symphony Orchestra on commissions.
Pallett has released four solo albums. 2005's Has A Good Home and 2006's He Poos Clouds, released under the 'Final Fantasy' moniker, were playful and irreverent. But it was 2010's Heartland and 2014's In Conflict that established his name as a virtuoso contemporary artist and composer. His music for the science fiction hit Her, for which he received an Academy Award nomination, brought his style into mainstream consciousness.
Like that film, Pallett confronts you with the beauty of our own world and makes you believe in the magical existence of others.
April 23 in Beijing at Yugong Yishan. Guaranteed to prove an enduring highlight of 2017.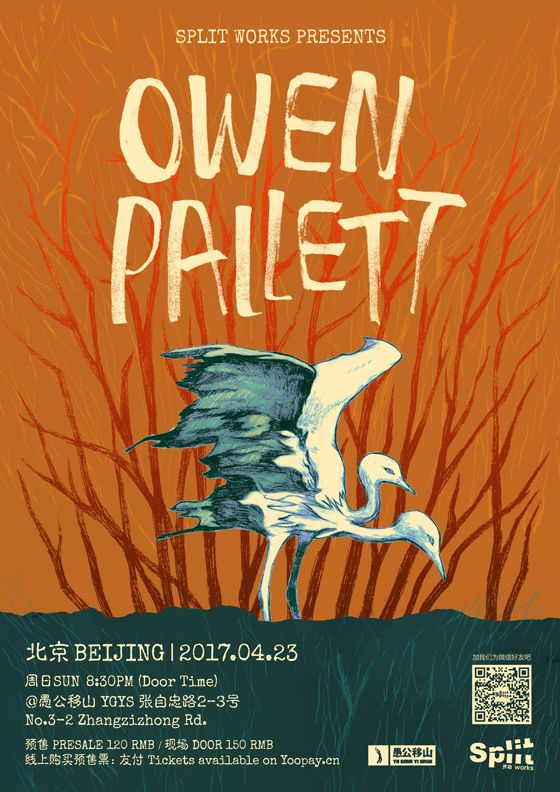 Start:

Tickets:

Rmb 150 (door) / 120 (presale | on a first-come-first-serve-basis)