19:00 – 20:45 — 1st Concert
KEITH KOUNA [Québec, Canada | Folk]
LES R'TARDATAIRES [Wallonie-Bruxelles, Belgique | Chanson Hip-hop]
21:30 – 23:15 — 2nd Concert
LiA [Suisse | Rock]
KKC Orchestra [France | Hip-Hop / Electro]
« Mars en Folie » is 10 years old! Vive la Francophonie in China!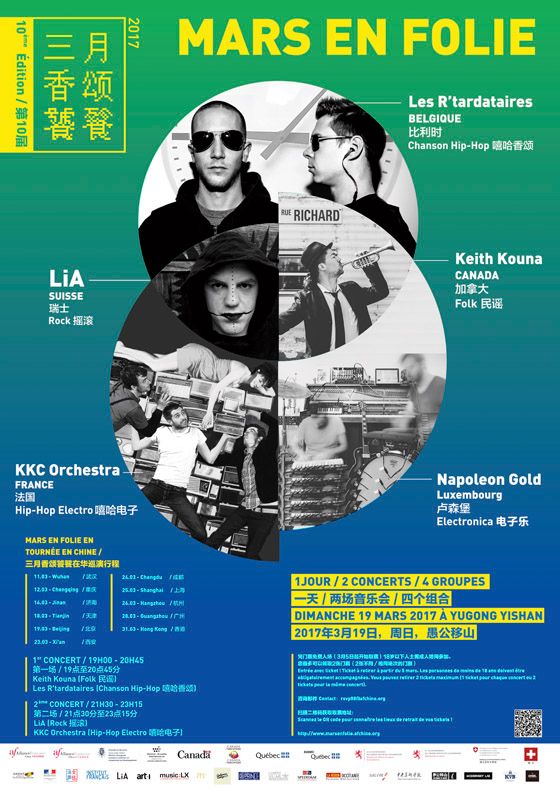 The biggest Francophone music festival in China is celebrating its 10th anniversary in March 2017. To mark this occasion, we will be presenting a tour  in more than 30 concerts in 11 Chinese cities from March 11-31.
As is the case every year, the network of 17 Alliances Françaises in China, the Embassies of Belgium, Canada and Switzerland, the Bureaux du Québec in China and Wallonie-Bruxelles International in China, and joined this year by the Embassy of Luxembourg for the 2017 edition, will present amazing Francophone artists with a variety of musical styles reflecting the cultural diversity of the Francophonie.
Four bands will perform spectacular shows at Yugong Yishan Livehouse.
The musical programming features:
− The French group KKC Orchestra, which "creates a universe in which the universality of hip-hop meets the modernity of electro";
− The Belgian Duo Les R'tardataires known for their "off-beat, doublespeak-free hip-hop";
− Canadian folk singer Keith Kouna, a "rocker and songwriter, rebel and poet all rolled into one";
− Swiss rocker LiA with his "classic and dynamic" singing and writing style; and
More than 30 unforgettable encounters in the colours of the Francophonie presented to our Chinese friends and partners. These four artists from the Francophonie electro hip-hop, hip-hop, folk and rock scenes will gather for the first time for your ultimate listening pleasure during this anniversary edition: 10 years of music and 10 years of song to raise the profile of the Francophonie in the Middle Kingdom!
Come discover our talented and friendly artists on stage for the "Mars en folie"!
Keith Kouna [Québec, Canada | Folk]
Multifaceted character, both rocker and songwriter, poet and rebellious, provocative and critical, romantically swimming against the current…Keith Kouna never ceases to surprise and charm his loyal Quebec public with his beautifully written songs and his anti-conformist and rebellious attitude. Keith is a free man who goes wherever he wants to. Escaping from any box in which we try to put him in. Ex-leader of a punk band, folk singer, he even revisited some of Schubert's repertoire and transformed it into lyrical soundscapes. In his poetry, we get to see the world through a child's eyes, never grey, never smooth, never neutral, he would be happily hunch over you to bite or kiss you.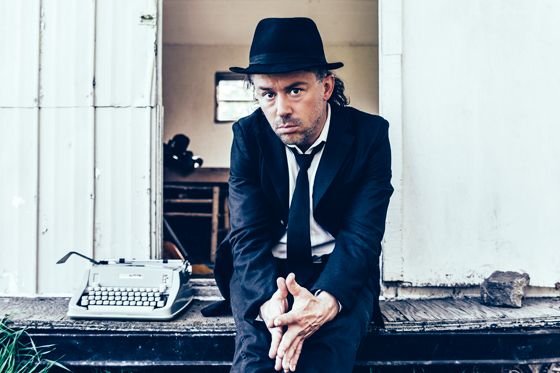 Les R'tardataires [Wallonie-Bruxelles, Belgique | Chanson Hip-hop]
Les R'tardataires (Those who are always late) categorise themselves in a strange sphere without doublespeak, where funk, reggae, rock and gipsy music mix up with off the wall hip-hop. This duo combines irony, musical creativity and positive energy, and broaches varied and unexpected subjects. It is the favourite rap band of those who don't like rap. Thanks to their multiple influences, these rappers from Liège have indeed good arguments to seduce and attract all kinds of music lovers. Nevertheless, they stay loyal to the spirit of original hip-hop, as we can see in their new album.
https://www.lesrtardataires.be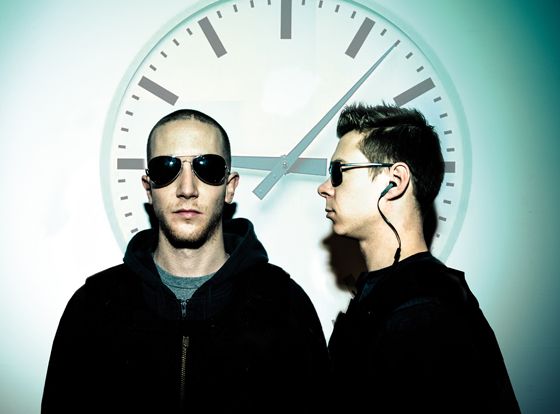 LiA [Suisse | Rock]
After more than 300 concerts, 26 year old Félicien Donzé, alias LiA, is in his element when on stage. His spontaneous and engaging way enables him to see the world differently. His third album Quand l'Homme s'endort (When Man Falls Asleep) is an expression of his artistic identity. LiA likes to develop and deepen his characteristic simple and sincere way of singing and song writing in an exploring manner. His songs are exploring human mystery, -dreams, -language and inner being. The result is a kind of rock music with poetic traits. Melancholic- but not sad. The lyrics leave room for music and sound textures to carry the listener into different spheres.
http://2016.liamusique.ch
KKC Orchestra  [France | Hip-Hop / Electro]
The KKC Orchestra is a one-of-a-kind group. Their music is characterized by a powerful bass and a hard, old-school hip hop flow, and reinvents the music scene, combining the universality of swing and the modernity of electronic music.  They are free spirits, they first appeared without ostentation, seven years ago, and lighting up the European rap scene ever since. Their charm and soulfulness transform their words into weapons. Although the KKC Orchestra use their lyrics to challenge wrongdoing, the only lesson they teach is on the dance floor — fans cannot help but waive their hands in the air in front of these passionate artists. At concerts, the energy is such that every heartbeat starts beating in-synch to the rhythm of the MPC.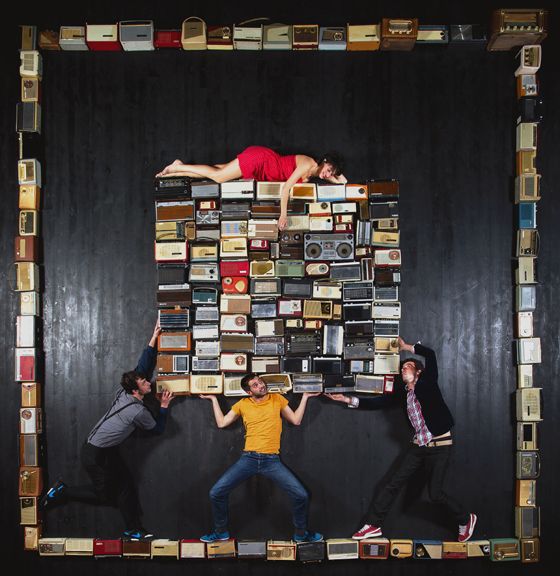 Entry with ticket – Ticket to be picked up from 5th March. Minors must be compulsorily accompanied. You can take 2 tickets maximum (1 ticket for each concert or 2 tickets for the same concert).
On a first-come-first-serve-basis
Locations:
• Alliance française – Guangcai(65532678)、Jintailu(59957300)、BLCU (82303619)
•  Embassy of Switzerland
•  Embassy of Belgique – Délégation Wallonie-Bruxelles
•  Yugong Yishan bar (after 5pm)
Start:

19:00

Tickets:

Entry with ticket