2008 Latin Grammy Awards"Best Pop Album by a Group or Duo"
2006 Latin Grammy Awards"Best Pop Album by a Group or Duo" Nominee
2013 Billboard Latin Music Awards "Latin Marketing Award: Best TV Campaign"
 " Belanova is one of those little groups creating waves in Mexico" –Chicago Tribune
 "fun and contagious" – The Salt Lake Tribune
One of the most sensational Mexican pop acts of the mid-2000s, Belanova enjoyed tremendous success in their native country, especially with their second album, Dulce Beat, whose single "Por Ti" notably logged a record-setting 29 weeks atop MTV Mexico's Top 20 chart. Vocalist/songwriter Denisse Guerrero, programmer/keyboardist Edgar Huerta, and bassist Ricardo Arreola formed Belanova in Guadalajara, Jalisco, in 2000. After a couple years, they signed to Virus Records, a Mexican dance label owned by Universal Music. They recorded their debut album, Cocktail (2003), with producer Alex Midi Ortega at Virus Studios, and scored a number one hit with their lead single, "Tus Ojos."
This didn't happen right away, however. In fact, Cocktail languished for months after being released in February. It wasn't until the car company Mitsubishi used "Tus Ojos" in a commercial that Belanova earned any substantial notice. Once "Tus Ojos" caught on, though, it caught on in a big way, becoming a chart-topper and driving Cocktail up the album chart to number five. Moreover, Belanova promoted the album heavily, performing concerts all over Mexico while issuing a couple follow-up singles ("Suele Pasar" and "Aún Así Te Vas," the former peaking at number eight, the latter at 12).
All of this initial success was far eclipsed by that of Dulce Beat (2005), Belanova's second album, which the band recorded in Buenos Aires with producer Cachorro López, who is perhaps best known for his brilliant work with Julieta Venegas. Dulce Beat resembles Cocktail in style — thoroughly contemporary disco-pop with feel-good lyrics written and sung with charisma by Guerrero — yet it's somewhat more accessible, no doubt with the teen market as well as increased international appeal in mind. The lead single, "Me Pregunto," was released to Mexican radio in May and went on to spend five weeks atop the Top 100 airplay chart. Moreover, it was a Top Ten hit in Chile and Argentina, setting the stage well for "Por Ti," the second single from Dulce Beat. It took only three weeks for "Por Ti" to rocket atop the Mexican airplay chart after its October release, and it remained in rotation on radio and MTV well into the summer of the following year. As 2006 came to a close, Belanova garnered a Latin Grammy nomination for Dulce Beat (Pop Album by a Duo or Group with Vocals, ultimately awarded to La Oreja de Van Gogh for Guapa) and López also garnered a nomination for his work on the album (Producer of the Year, which he took home).
Belanova's third album, Fantasía Pop, featured a move further away from electropop and more towards pop. The album brought the group bigger success in foreign markets. They toured Mexico, Ibero-America, and the United States. In year 2008, the band's album Fantasía Pop won the Latin Grammy Awards Best Pop Album by a Group or Duo.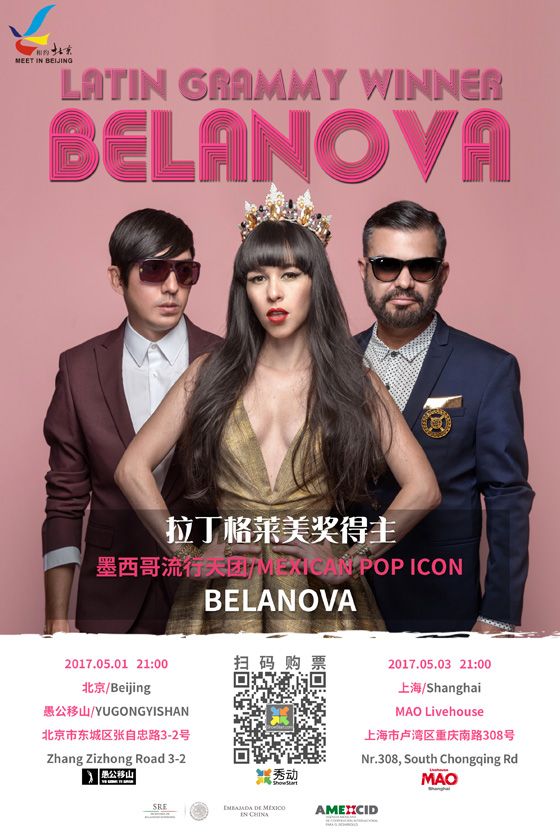 Start:

Tickets:

Rmb 180 (door) / 150 (presale | on a first-come-first-serve-basis)