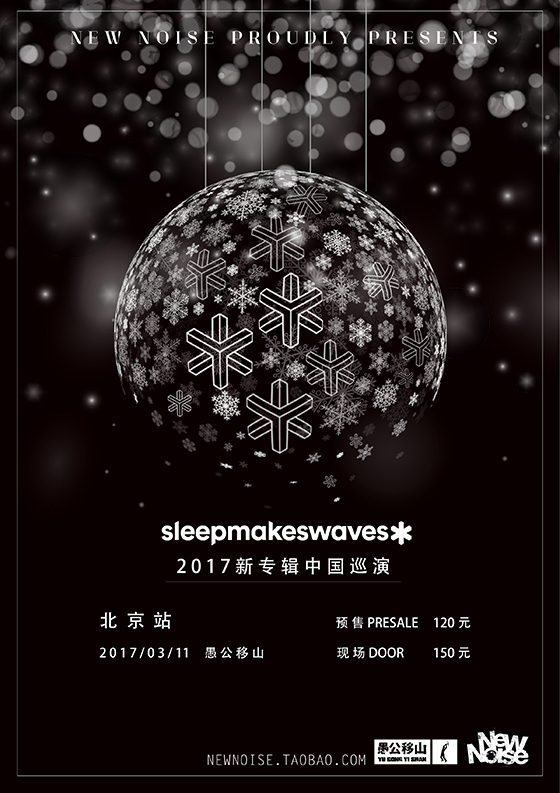 New Noise is very proud to present a 9-city tour for Australia's biggest instrumental post-rock quartet Sleepmakeswaves presenting their brand new album. Over the past decade the band grew to become one of the most prominent post-rock bands in the world touring all over the world with bands such as 65daysofstatic, Tortoise and Mono and selling out tours in their own homeland. Sleepmakeswaves put on a performance deserving of every bit of praise and acclaim that has been afforded to them, they come and destroy everything with their mind-blowing shows.
Guitarist Otto Wicks-Green quotes:
" Our first time touring China in 2015 was one of the big highlights of our touring career. Ever since then we have been looking forward to returning to experience the unique atmosphere at the shows and to immerse ourselves once again in this fascinating place. We're delighted to announce that we will be heading to China in March 2017 as the FIRST country to experience the new album and live show. We can't wait to see you all again soon."
Sleepmakeswaves' bold approach to creating innovative instrumental music and their electric live performances have earned them high profile tours and festival slots. Their music showcases their dynamic and energetic approach to modern post-rock, whilst retaining their signature melodic hooks. With their new album the band continues to map new creative directions within an instrumental rock framework. A Sleepmakeswaves' concert is all about the experience, come to the show and get blown away!
Tickets online:https://yoopay.cn/event/ygys20170311
Start:

21:00

Tickets:

Rmb 150 (door) / 120 (presale | on a first-come-first-serve-basis)