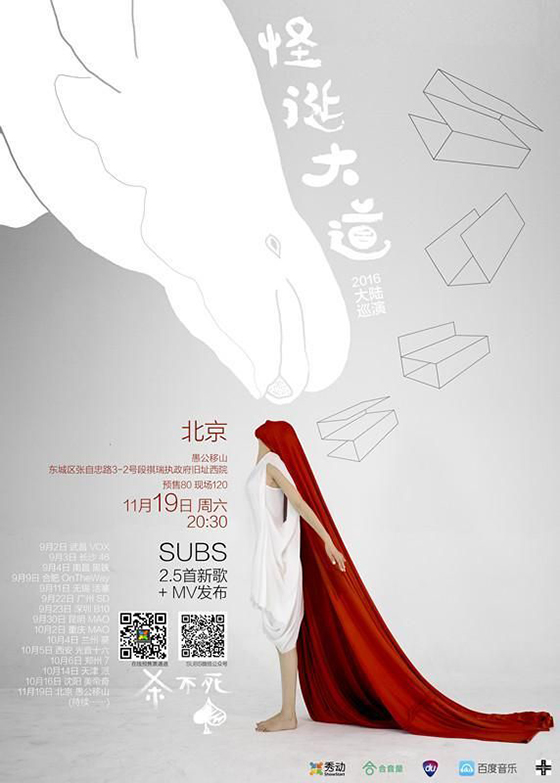 SUBS is a pretty, prickly flower grown from the grime and soil of China's punk scene — direct, powerful, reckless, unrepressed, and a bit strange. They define their own inimitable style, mixing hardcore, emo, garage, and new wave, streaked with influences from post-punk, psychedelic rock, synthcore, and art punk.
Remaining independent for over a decade, SUBS has always refused to sign with any record label or management company, and to this day refuses to accept false commercial publicity. They insist on being true to themselves in an environment lacking in a strong DIY ethos, preserving a feeling of innocence in their attitude towards making music. Their only "labels" are the spirit of rock'n'roll and the essence of live music.
SUBS has embraced the spotlight over the course of more than a dozen international tours, including headlining a string of northern European festivals in 2005 and 2006. SUBS's story has been told in several documentaries by filmmakers from around the world, including Rock Heart Beijing, produced by Norsk Dokumetarfilm over the course of five years. SUBS is also the only Chinese band to appear on the cover of Rolling Stone's China edition. Within the underground scene, SUBS has won Best Band, Best Album and Best Vocalist titles from different institutions, media, music festivals, and fan-voted award ceremonies. SUBS is the favorite live band of many rock'n'roll youth in China, and has been dubbed by their fans "Sha Bu Si" — unable to be killed.
SUBS has released five albums in China, along with with several live albums and demos. Their music has been the subject of a tribute album featuring over 10 European bands and musicians covering SUBS tracks. At the end of 2016, SUBS released three new songs featuring a brand new sound that has climbed the underground Chinese rock charts.
tickets online:https://yoopay.cn/event/ygys20161119
Start:

Tickets:

Rmb 120 (door) / 80 (presale | on a first-come-first-serve-basis)