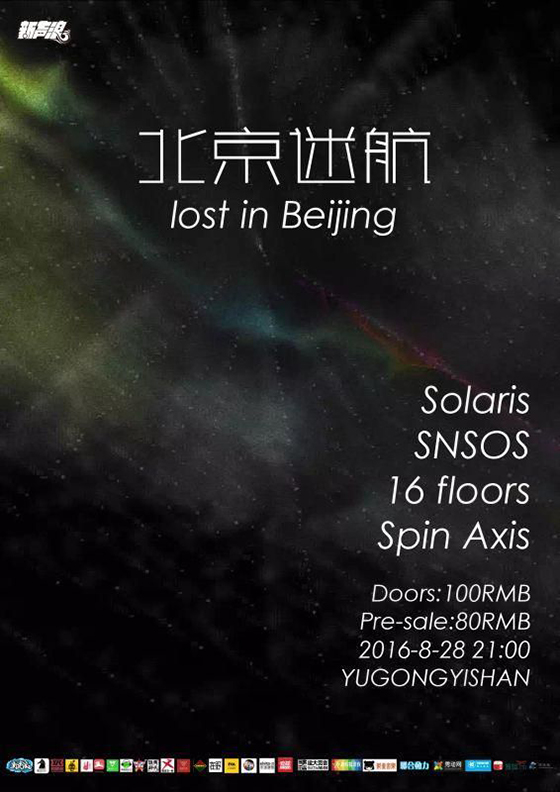 SOLARIS
The band was founded in August 2014. At first, the more, the dragon and cong has not thought of satisfied with a band, so that a few months in the past, even the douban station didn't also the way to build. Until then, the dragon always sent a tuck, movie posters attracted everybody's attention, that's right, the movie is adapted from Poland "SOLARIS" – it science fiction writer, liam's novel of the same name there, SOLARIS (SOLARIS) is a lie the wisdom of the protoplasm ocean planet, visitors can see the subconscious, and the projection entity illusion to confuse it.
Spin Axis
SpinAxis is an instrumental/post rock band from Shijiazhuang, formed in 2013Spring. Their musical expression is mainly inspired by the post-rock movementin the late 1990s and classical music. The band blends the genres of theirmusic with elements such as psychedelic, math, and electronic. They aregood at rationalising complex things and often forcing in the oppositedirection. They like structuring their own sense of imagery in the context of ablurred chaining sound filed.
16 FLOORS
16 layer band is a from Beijing three post rock band, but it is not just a post rock band, they will a variety of styles into songs, made the song become more rich and impact force. Bid farewell to the traditional post, into a girl, make the audience feel fresh and chic.
SNSOS
Moment at the end of the tunnel through the polar day, and we try to seize the moment may have tunnel and the contradictions and hidden, childish question, is a quarter of the rapid expansion of the pupil, showing the might is distorted perception is tacky in the end of the answer, out of the mouth without barriers. But at least it is young and real, don't self contrary to the status quo, refused to remain unchanged, but may be able to achieve peace.
tickets online:http://www.showstart.com/event/13800
Start:

Tickets:

Rmb 100 (door) / 80 (presale | on a first-come-first-serve-basis)