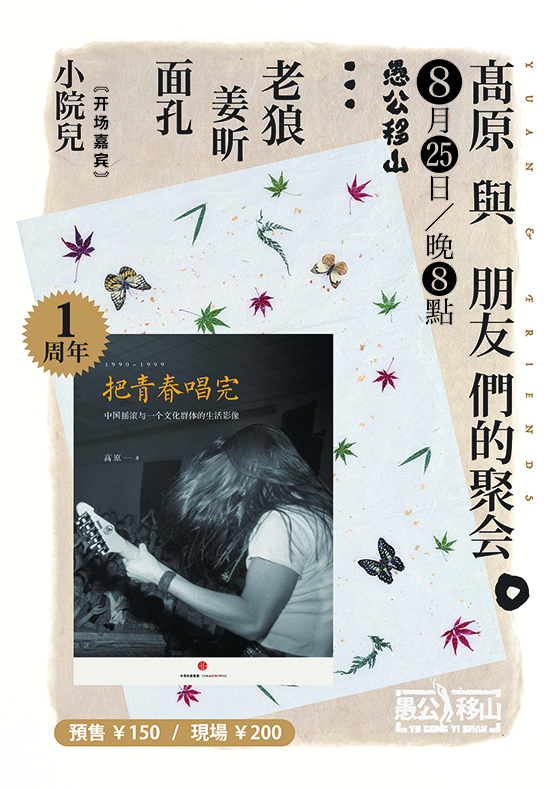 "This book speaks directly of reality and commemorates true emotions! In this era, it is difficult and foolish to speak truthfully because nobody believes anymore. People stands by authorities and loses judgement. But I still will have to tell you the true story. This is love for myself, for the history and for you." – Gao Yuan
On August 25th 2015, photographer Gao Yuan brought the whole generation to their emotional past with the publication of a photobook that she had worked on for many years, Finishing the Song of the Youth. 100 days after its publication, figures that are recorded in the publication came to Yugongyishan and brought to live again the most vivid memory of the 90s Rock n' Roll.
In 2016, on the anniversary of Finishing the Song of the Youth's publication, in the same venue, on the same stage, in the name of "everlasting song of youth" we sing, dance, laugh and feel with Lao Lang, Jiang Xin, The Face, Xiao Yuan'er and special guests. This is not a gig for gig's sake, but only a homage to happiness and to the true, emotional time.
"Everlasting Song of Youth", the party of the year in 2016, 9PM, August 25th, Yugong Yishan, let's celebrate in our own ways and bring back the unsung youth!
Start:

Tickets:

Rmb 200 (door) / 150 (presale | on a first-come-first-serve-basis)