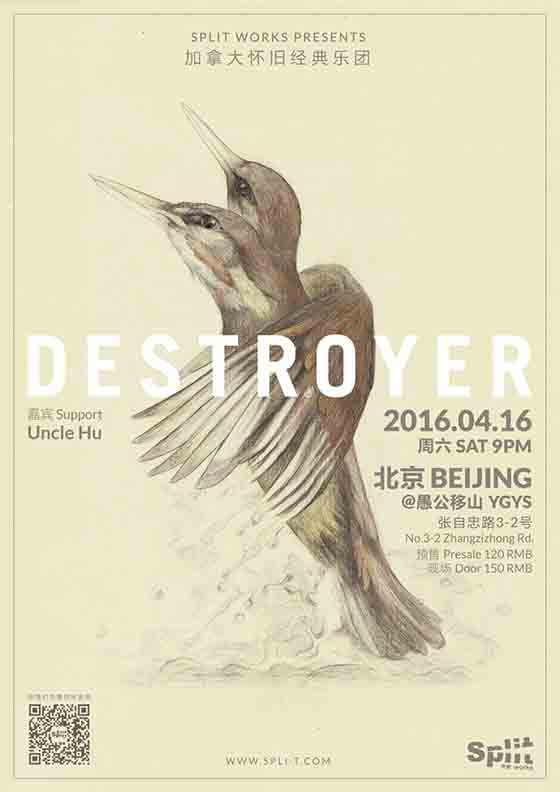 Support: UNCLE HU
"Destroyer is indie rock's most rewarding intellectual project." – Pitchfork
Welcome to Destroyer. It's the quirkiest zip code in indie rock land. It's the gloriously vintage town that changes itself completely every few years.
Come on in. Stay a while and listen. Don't be fooled by the grumpiness, because there's plenty of insight hidden between the sumptuous melancholy.
Dan Bejar's Destroyer are ones of the smartest bands around.
A restless, oddball bunch who write "heady, intoxicating songs" (NOW). Songs with strings and horns and piano, like Bruce Springsteen's E Street Band reborn on the Internet. An artist in "complete control of the strange chaos around him" (AV Club).
They're playing a very special gig at Beijing's Yugong Yishan on April 16, before playing the fourth in our Contemporale series, co-presented with the Shanghai Symphony Orchestra, in Shanghai on April 17.
Supporting them in Beijing will be Uncle Hu, with cozy, whispery little nostalgia-drenched songs of their own.
Dan Bejar started Destroyer as a solo home-recording project in the early to mid-nineties. Exploring and overturning genres such as glam, MIDI, yacht rock, and even underground Spanish independent artists, Bejar was proclaimed "Rock's Exiled King" by The Fader. His is a body of work that consistently flouts convention in favor of musical leaps of faith, statements of purpose cloaked in subterfuge, and the joyous refrain of an optimist's heart cloaked in cynicism.
As Destroyer, Bejar has released 11 studio albums and 4 EPs to date, with the critically acclaimed Poison Season, released in August 2015, topping a number of year-end lists.
No two records sound the same, but they're always uniquely Destroyer. Consistently displaying a chameleonic instinct for change, yet maintaining a unified aesthetic. Where 2011's Kapputt was drenched in the sounds of early 80s progressive pop, Destroyer's latest incarnation often appears to take sonic cues from a distinctly British (usually Scottish, to be precise) strain of late 80s sophisti-pop: you might hear traces of Aztec Camera, Prefab Sprout, Orange Juice, or The Blow Monkeys. These songs merge a casual literary brilliance with intense melodic verve, nimble arrangements, and a certain blue-eyed-soul sadness.
Beijing on Saturday, April 16. Expect droll travelogues full of wonder and cynicism, and subversive love songs both tender and sarcastic.
Welcome to Destroyer. They've been waiting for you.
https://www.mergerecords.com/destroyer
Start:

Tickets:

Rmb 150 (door) / 120 (presale )