Battles
Founded in 2002 in New York City, Battles is one of the most influential math rock bands ever, featuring unconventional composing structure and precise arrangement in various pieces. They are the Networked Band, or perhaps the-band-as-network. The band's constant forward-momentum pushes the limits of instrumental and electronic sounds and develops a better combination. The current line-up includes guitarist/ keyboardist Ian Williams, guitarist/ bassist Dave Konopka, and drummer John Stanier. Throughout Battles' career, the band has presented three successful studio albums: Mirrored(2007), Gloss Drop(2011), and La Di Da Di(2015). As the name might imply, the latest album La Di Da Di is a mushrooming monolith of repetition. Battles created mostly instrumental music heavy enough for metalheads, nuanced enough for jazz cats and weird enough to pull in all sorts of fans from the fringes. The New York art-rockers' surprisingly hooky, electronic-tweaked-to-sound-organic (and vice versa) creations have also soundtracked ads for Honda and the FIFA 12 video game, and shown up on the Twilight: Eclipse soundtrack. With its achievement in revolutionizing progressive and experimental rock, Battles brings about the recontextualization of the pop-rock formula. By the drum-based loops and the unique guitar sessions, Battles builds up a new concept of the indistinction between rhythm and melody, which audience can easily tell from the drum that rules. This winter, Battles will sweep the town with their newly-come works and explosive performance. The rhythmic genus of Battles is here as ever; full frontal, heightened and unforgiving – the gauntlet through which melody and harmony must pass, assailed at every turn.
https://www.facebook.com/battlestheband
https://soundcloud.com/battles
Moon Duo
Formed in San Francisco in 2009 by Wooden Shijps guitarist Ripley Johnson and Sanae Yamada, Moon Duo fuses the futuristic pylon hum and transistor reverb of Suicide or Silver Apples with the heat-haze fuzz of American rock 'n' roll to create tracks of blistering, 12-cylinder space rock. They soak in Krautrock and Neo-Psychedelic to bring about groovy, revealing sonic textures.This year, Moon Duo released their new material, Shadow of the Sun. Working both in a dark basement in Portland, and above ground in sunny San Francisco, the band grasped the different air and internalized it into their latest album. With the drummer John Jeffrey joining the band's live-set instead of drum machine, Moon Duo is now embracing a more humanized voice. We are flattered to be on tour with Moon Duo the second time here in China, bringing you 5 shows throughout Shenzhen, Guangzhou, Wuhan, Shanghai and Beijing, to continue the experience of a heady, ethereal musical trip.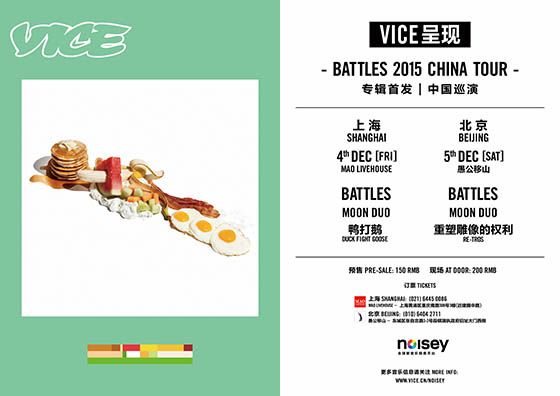 在线购票 Tickets online: https://yoopay.cn/event/ygys20151205
http://m.jtwsm.cn/proj/166293.html
Start:

Tickets:

Rmb 200 (door) / 150 (presale | on a first-come-first-serve-basis)