"[His music] has more vocal and instrumental hooks than the average Top 40 song, but also the immediately recognizable stamp of an impressive young talent" – Pitchfork
"A lesson in how to execute electronic music properly…hang on for the ride." – NME
Put on your best flamboyant mirror shades and brace to party like it's1983. Split Works presents heart-warped synth wizardNeon Indian,playing two dates in Beijing and Shanghai on 19-20 November.
Neon Indian plays China off the back his new album, VEGA INTL. Night School (out October 16). Developed over a four-year period, the album brims with funk-centric guitar lines, pronounced Balearic rhythms, and the most elaborate songwriting of his career. VEGA INTL. Night School was composed and recorded in a variety of locations including, but not limited to, a cabin aboard a cruise ship, DFA's Plantain Studios in New York, and Pure X's practice space in Austin, Texas. Upon its completion, Alan noted "most of what I've learned about human nature in my twenties has happened after dark. People are just kind of more honest then. More deliberate. I like to call the places I go to Night Schools."
Neon Indian first became popular around the turn of the '00s as one of the standard-bearers for "chillwave". His specific strain of electro-pop heartache sounded like it'd been recovered from half-melted cassette tapes,tending towards the druggy, groggy, and reflective (while noddingjust slightly toward dance music). His critically acclaimed debut album Psychic Chasmswas released in 2009 on a wave of praise from Fader, Pitchfork,Spin and Rolling Stone among others.
He then took on US Late Night television playing the Jimmy Fallon show, remixed Grizzly Bear and Au Revoir Simone, made festival appearances at Pitchfork Music Festival and Bonnaroo, as well as supporting Massive Attack on their first shows in America in 4 years. His second album, Era Extraña, was released in 2011. Darker and more serious than Psychic Chasms, the album reached 74 on the Billboard 200 charts, and appeared on a number of end-of-year best music lists.
In August 2015, Neon Indian announced his long-awaited third album, VEGA INTL. Night School while simultaneously dropping the album's second single "Slumlord." Pitchfork described it as "like dancing faces glimpsed for one flash in an otherwise darkened nightclub, suggesting one last gasp of the ecstatic before the hard reality of life returns the morning after."
Join us in our very own Night School for a glimpse of the ecstatic with Neon Indian, live in Beijing and Shanghai.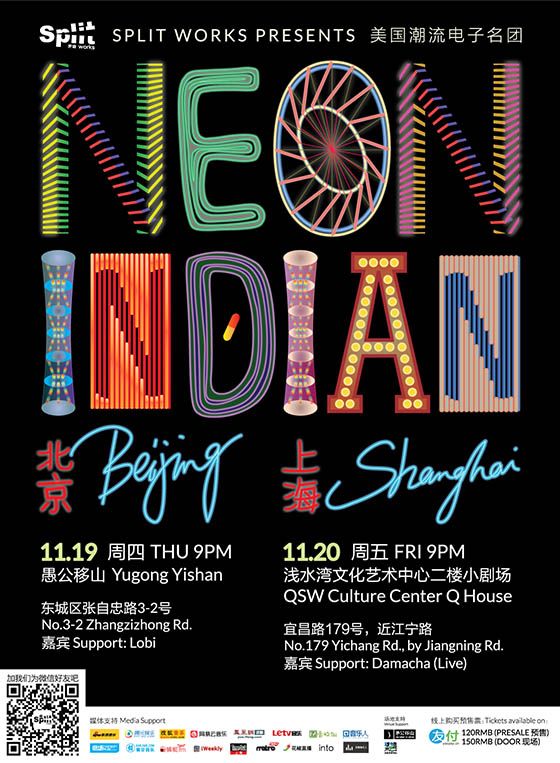 Tickets online:https://yoopay.cn/event/NeonIndianBJ
Start:

Tickets:

Rmb 150 (door) / 120(presale | on a first-come-first-serve-basis)