I am Nan Li, founder, leader, and lead singer of my band Voodoo Kungfu, an outstanding "World Heavy Metal Music" band. Before studying at Berklee College of Music, I was known as the "Ultimate Screaming Master " in the Heavy Metal scene in China. I am the only-by far-singer to be accepted for a scholarship to Berklee by performing original heavy metal.
My first great achievement in China was to be permanently expelled from an Irish Catholic school in 1997.This event helped propel me to my next step: the formation of Voodoo Kungfu. Voodoo Kungfu gathered people from different places like Beijing, Mongolia and Yun Nan, and all these cultures give Voodoo Kungfu its unique flavor. This was the beginning, but to break through another heavy metal wall and fulfill my passion for world music in 2003 went to Mongolia and Tibet to learn from their traditions, culture, and religions. It was a totally brainwashing trip to learn from a "Witch Shaman" and Lamas, to learn the singing skills of " Chor " (Kögemei) and " Urtyn duu " (Mongolian Long Song). The combination of these exotic musical elements has made Voodoo Kungfu the most famous heavy metal band in China. Later, Na Richa, the descendant of Witch Shaman, played a horsehead traditional string instrument for the band, the uniquely attractive horsehead string lines combining blending with the heavy and cruel background instruments and my own awakening voice to create what some people saw as a curse. People believed in this Voodoo Kungfu curse, the most terrifying heavy metal band in China.
My journey had not ended. One day in 2008, I was bitten by my cobra, putting my life in danger. The antivenin could not arrive in time to prevent me falling into a deep coma. Most thought I would not survive, but a miracle happened-a Chinese folk doctor concocted a care of traditional medicine and I awoke from unconsciousness and began to incredibly fast. I left the hospital on the 7th day, walked into a recording studio, and began singing. In 2 days I had finished all the songs of the first Voodoo Kungfu album Mongol-Temporal Side. My singing voice terrified the musicians, engineers, and studio staff, who all believed they had heard the most terrifying sound in the world. I think this is because I had been to Hell but survived to bring back the voice from Hell. My singing voice portrays the naked terror of Hell!
The same year, Voodoo Kungfu gave a performance at the Wacken Open Air festival in Germany, billed as the "best Chinese Heavy Metal band", and becoming the first Chinese band to play such a lage metal large metal festival.
From 2009 on, Voodoo Kungfu became the headline band in the biggest rock festivals in China, performing with famous bands such as "Soulfly", "Mr. Big" etc. In 2010, Tibet –The Dark Age was released, but due to its political attitude, Voodoo Kungfu was banned from all major festivals in China and missed many opportunities to perform overseas.
In 2012, after finishing our last tour of China, I left the country and studied voice principle at Berklee College of Music, and continued Voodoo Kungfu' s music in the US. Most importantly, with this hellish journey nailed into my memory, the voice from Hell sends its greetings through my music and performance.
Guitar: Ike
Bass : Murv
Drum : Sack
Vocal : Nan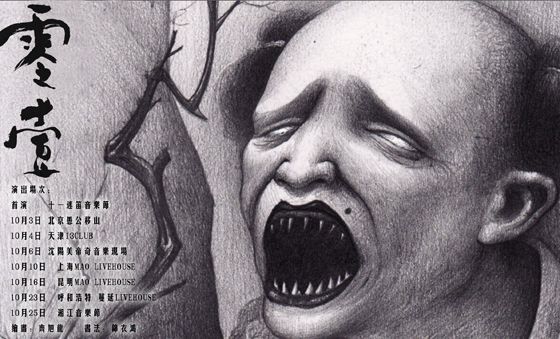 Start:

21:00

Tickets:

Rmb 200 (door) / 180 (presale | sold out)