Peter Brötzmann
He studied painting in Wuppertal and was involved with the Fluxus movement[1], but grew dissatisfied with art galleries and exhibitions. He experienced his first real jazz concert when he saw American jazz musician Sidney Bechet[2] while still in school at Wuppertal, and it made a lasting impression.
He first taught himself to play various clarinets, then saxophones; he is also known for playing the tárogató. Among his first musical partnerships was that with double bassist Peter Kowald. He has not abandoned his art training, however: Brötzmann has designed most of his own album covers.
"For Adolphe Sax[3]", Brötzmann's first recording, was released in 1967 and featured Kowald and drummer Sven-Åke Johansson. 1968, the year of political turmoil in Europe, saw the release of "Machine Gun", an octet recording often listed among the most notable free jazz albums. The album "Nipples" was recorded in 1969 with many of the "Machine Gun" musicians including drummer Han Bennink, pianist Fred Van Hove and tenor saxophonist Evan Parker, plus British free-improv guitarist Derek Bailey. The second set of takes from these sessions, appropriately called "More Nipples", is more raucous.
The logistical difficulties of touring with the mutli-player bands resulted in Brötzmann eventually slimming the group to a trio with Han Bennink and Fred Van Hove. Bennink was also partner in "Schwarzwaldfahrt", an album of duets recorded outside in the Black Forest in 1977 with Brötzmann's sax and Bennink drumming on trees and other objects found in the woods.
Larger groups were put together again later, for example in 1981 Brötzmann made a radio broadcast with Frank Wright and Willem Breuker (saxes), Toshinori Kondo (trumpet), Hannes Bauer and Alan Tomlinson (trombones), Alexander von Schlippenbach (piano), Louis Moholo (drums), Harry Miller (bass). This was released as the album Alarm.
Brötzmann has remained active, touring and recording regularly. He has released over fifty albums as a bandleader, and has appeared on dozens more.
[1] Fluxus movement: An international network of artists, composers and designers noted for blending different artistic media and disciplines in the 1960s. Fluxus encouraged a "do-it-yourself" aesthetic, and valued simplicity over complexity. Like Dada before it, Fluxus included a strong current of anti-commercialism and an anti-art sensibility, disparaging the conventional market-driven art world in favor of an artist-centered creative practice.
[2] Tárogató: A kind of woodwind instrument commonly used in both Hungarian and Romanian folk music.
[3] Adolphe Sax: Belgian musician, inventor of the saxophone.
http://www.peterbroetzmann.com
https://www.facebook.com/pages/Peter-Brötzmann/40613690752
Sabu Toyozumi
Born in 1943 in Tsurumi, Yokohama, Yosashiburo "Sabu" Toyozumi joined a drum and fife marching band in 1953. Four years later, he started to play in a band with friends and liked to play many different instruments.
Since 1960, the year in which he decided to become a professional musician, he has travelled to various countries. Along his travels, and back home in Japan, Sabu has been playing free improvisation with incredible musicians such as Motoharu Yoshizawa, Masayuki "Jojo" Takayanagi, Mototeru Takagi, Chales Mingus, Anthony Braxton, Alan Shorter, Rafael Garrett, Kazuko Shiraishi, butho master Kazuo Ohno, Johannes Bauer, Peter Brötzmann, Hans Reichel, Fred van Hove, Misha Mengelberg, Derek Bailey, Wadada Leo Smith, Paul Rutherford, John Russell, Sunny Murray… and many more.
Most famously, Sabu has played with Kaoru Abe until Abe's passing in 1978, and they released the album "Overhang-Party". The duo was regarded at the time as the most powerful and intense music coming out of Japan.
Sabu loves animals a lot.
https://www.facebook.com/sabu.toyozumi
Jason Adasiewicz
Jason Adasiewicz is a young virtuosic jazz vibraphonist growing up in Crystal Lake, a suburb of Chicago.
"Jason Adasiewicz's vibes shimmer in the ether. A Chicago mainstay, Jason is a true original with a deep sensibility for sound vibration that can be heard through his innate and idiosyncratic approach to harmony and melody. Jason's musical history is spiked with fervent free improvisation and tight melodic rendering."
— Rob Mazurek (US)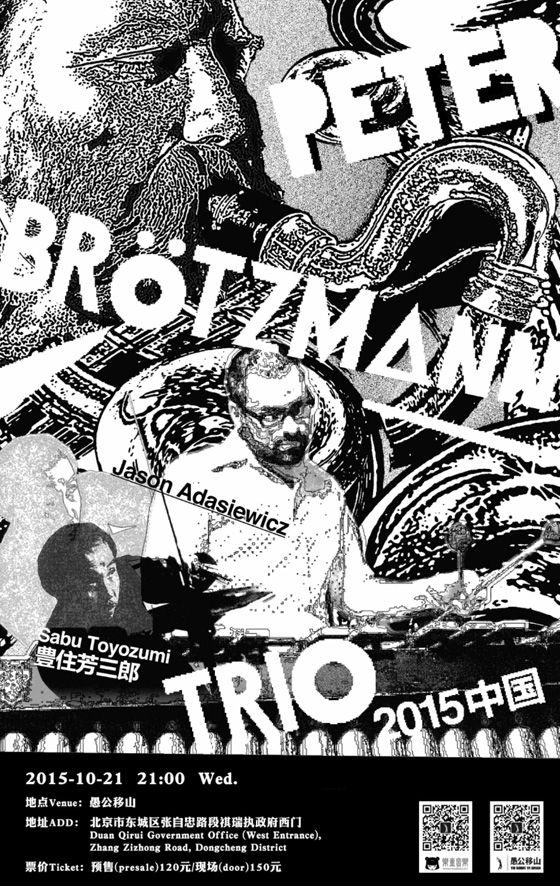 Start:

21:00

Tickets:

Rmb 150(door) / 120 (presale | on a first-come-first-serve-basis)