Formed in 2004 by Trevor Wentworth (vocals), Matthew Wentworth (guitar, vocals), Alex "Woody" Woodrow (bass) and Tim Molloy (drums), OUR LAST NIGHT has become the symbol of Post-Hardcore genre throughout all these years.
After a few lineup changes, they signed with Epitaph Records and embarked their first tour, at that time Trevor was only 13-years old. Their debut album《The Ghosts Among Us》came out on March 4,2008 which peaked at No. 6 on Billboard's Top Heatseekers, and all has only began……
Two years later, the group entered the studio and came out with their sophomore effort 《We Will All Evolve》. Produced by Andrew Wade(A Day to Remember, Versa Emerge, In Fear and Faith), this record took the band to go out touring for several months.
They make their top position in the metal scene with an incredible mixture of post-hardcore and alternative rock with some elements of metalcore. The early releases featured fewer clean vocal parts while the contemporary material is more melodic with the role of unclean vocals noticeably reduced. It's time to join in this night of evolution of modern heavy music in Beijing with OUR LAST NIGHT!!
Tickets online: www.showstart.com
https://yoopay.cn/event/ygys20150604
Hotline: 010-62159844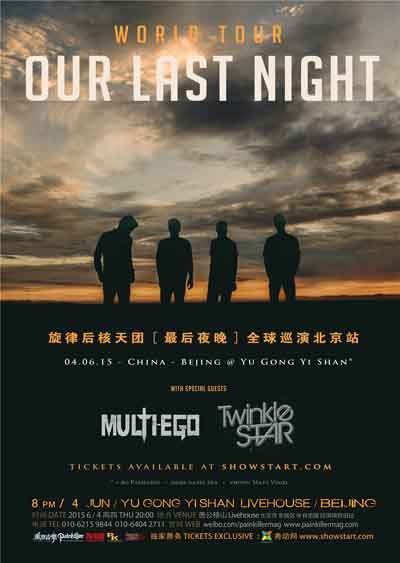 Start:

20:00

Tickets:

Rmb 220 (door) / 150 (presale | on a first-come-first-serve-basis)