lost glory of war horses
forgotten shine of blades
carved through time
harshly forged by fate
at such restless, pretentious times
let us once more revisit
the humble nature of horseback culture
Tulegur, a modern nomad group, rooted in traditional tunes of Inner Mongolia and influenced by rock music. Their sound is a great mixture of traditional music, rock, throat sing (Khoomei, traditional throat singing of Mongolian) and Mongolian and Chinese folk. This combination results in a unique style that is being called "Mongolian grunge" or "nomad rock" by the artists themselves.
Gangzi is the soul of Tulegur, educated in traditional opera, his voice can reaches the lowest tone of throat singing. Attracted by modern music, Gangzi moved from Inner Mongolia to Beijing to perform and compose. A year later, he returned to his hometown, Hulunbeier, where he spend time with local farmers to learn Khoomei. This nomad experience became a revelation in his life and helped him to discover his own musical style. After years of solo performances, Gangzi has achieved remarkable success all around China and in the world.
At the end of 2014, percussionist/guitarist Zong Can joint Tulegur's new bigger picture. As an experienced guitarist and percussionist, Zongcan has traveled to many places both in China and other countries. He has special ways to embrace different cultures and combines them with his music.
Ajinai is from Sanskrit the ancient language of India, meaning a majestic and auspicious stallion. An ancient legend tells a story that long time ago there was a king in India who had an impressive and magical green stallion. When Buddhism went into Mongolia the term Ajinai was used to describe a great stallion this legend remains until the present time.
Like our Mongolian ancestors hundreds of years ago, the music of the Aijinai band welcomes all elements of outside cultures and through incorporating these foreign elements they have formed the root of Ajinai's music. Ajinai intends to make their music more diverse, worldly and without boundaries.
http://facebook.com/ajinaiband
Mabang is the term for transport caravans in the mountain region of south west China where people have no better choices but carry all goods – especially tea and salt – on horsebacks accross the stony mountain side. Over the centuries they have developed an culture on their own.
The music group Mabang was formed by mastermind Ye Honggang in 2010 in Liuzhou, south western Chinese province Guangxi. Over the years, they have become a frontriding fusion between local ethnical music of Chinese south west and modern ideas of world music and combine traditional mountain songs and singing styles with contempolary music aspects such asrock, raggae, ska, etc.
The musicians in the band are fascinated by all sorts of instruments from all over the world and make use of them to creat their unique sounds of nature, man and urbanhood.
Tickets online: https://yoopay.cn/event/ygys20150612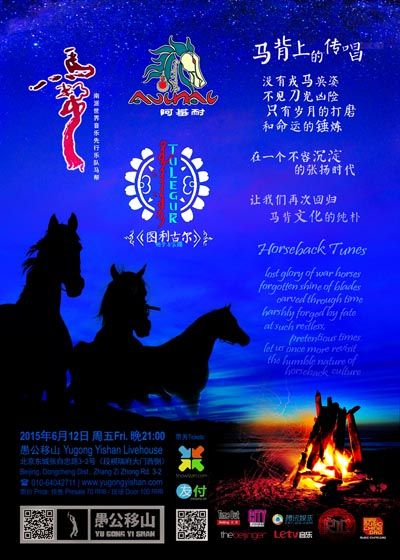 Start:

Tickets:

Rmb 100 (door) / 70 (presale | on a first-come-first-serve-basis)