It was the mutual desire to play and preserve music that led to Mafilika's formation in 2007. The different backgrounds and cultural roots of band members inspired Malfilika Band's musical style, which fuses of each band member's personal music tastes into a blend that mixes rock with roots and jazz with alternative each song packed with youthful energy and inspiration!
Mafilika in June '09 were invited by Mundial Productions from The Netherlands to make a one month tour during the 'Mundial on Tour Weeks'. They gave the Dutch people a taste of their music by giving almost 15 performances throughout the Netherlands.
In 2010 they visited Germany and toured more than 8 cities performing Afro-Rock Music.
In 2011 Mafilika performed couple of concerts in Switzerland and later that year they were the favorites in the Lake of stars 2011 in Malawi.
in 2012 they release their album in South Africa and scheduled several local tours including BAF festival.
in 2013 and 2014 Mafilika have been doing a couple of tours to Scotland for Glasgow Common-worth music festival, London, and Lake of stars 2014 just this September
Mafilika is composed of talented young men who are accomplished musicians internationally and have worked with Big artists in international scene, like Beverly Knight, Mafikizolo, Freshly grounds, Richard bona, Etienne Mbappe, George Benson, Earl Klugh, just to mention a few.
Members:
Ernest Ikwanga – Guitarist & lead vocals
Ephraim Chirwa – Bassist & backing vocals
Sam Mkandawire – Keyboardist & backing vocals
Amos Mlolowa – Drummer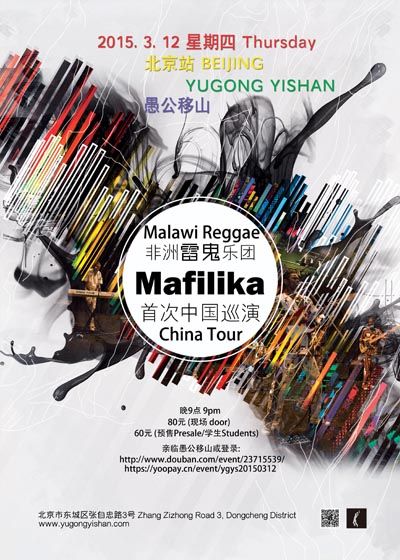 SoundCloud: https://soundcloud.com/jminetwork/together-against-corruption
Video: http://v.qq.com/boke/page/w/0/8/w0141ctatj8.html
http://v.qq.com/vplus/1dfd5f34dfca53c4a0b6c87bb849e22c
Start:

Tickets:

Rmb 80 (door) / 60 (presale | stop at midnight on March 11th / students | door)