"Manchild" – Solo, piano and voice. A pure and sheer voice brushing the keys, played with a peerless strength and virtuosity, which creates boundless worlds. Manchild is an intimate and gentle show, extremely empathic.
Kekko Fornarelli (Bari, Italy, 1978) is one of the most widely appreciated artists internationally. A pianist and a composer, he has developed a unique style, characterized by the attempt to create music to observe, more than just to listen to.  A way to tell stories, emotions and situations. His music is a mellow combination of modern northern European ideas and neoclassical lyricism, filtered by his warm and extremely personal Mediterranean background. It is the attempt to create a more and more universal vision of music, able to draw jazz out of the narrow circuit of its appreciators and bringing it to the general audience.
Roberto Cherillo is one of the best voices of Italian jazz and a extraordinary pianist and composer.
His music is an endless experimentation, constantly developing and looking for new ideas. The choice of the voice as the instrument best representing him has led Roberto Cherillo to come across to the most different and unusual styles and studies. From Anglo Saxon songwriting traditions to the Eastern influences, like the overtone singing.
His first album was published in 2009, "L'isola della pomice" (Picanto/Egea) with the Trio Omparty, and it was warmly welcomed in Italy (Award "Suoni di Confine" at MEI in Faenza).
One of his most interesting projects is  Soffice (Picanto record, 2011), the album he has recently recorded with famous trumpeter Luca Aquino. A tribute to Chet Baker, Soffice is "enchanting, it is like a refreshing oasis, a place to turn our daily stressed asymmetries to sheer lyricism" (Guido Festinese, transl) Jazzit Awards competition 2012 placed it in the TOP 10 of best jazz albums  of the year, and Cherillo was placed third best male voice after Gegè Telesforo e Mario Biondi.
Cherillo has also composed several soundtracks for theatre plays. He is currently touring with Italianesi, a show of the Italian theatre company Scena Verticale, playing on stage.
http://www.robertocherillo.com/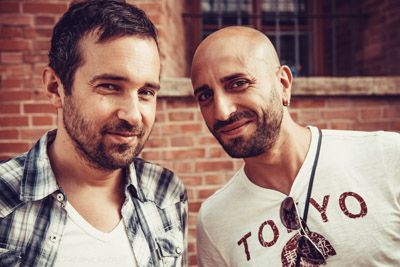 Start:

21:00

Tickets:

Rmb 80 (door) / 50 (presale | stop at midnight on October 25th)