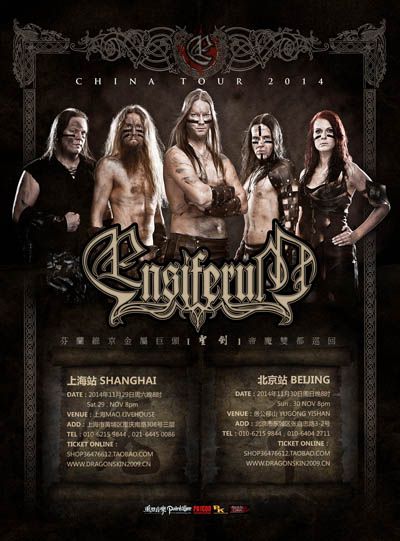 As the most outstanding Viking/Folk metal band in the world, finnish quintet ENSIFERUM was founded as a three-piece by Markus Toivonen, Sauli Savolainen and Kimmo Miettinen back in 1995. With 3 self-released demos they signed with the famous local label Spinefarm just before their debut album <Ensiferum>.
In their sophomore effort <Iron> ENSIFERUM built the music tower high on their dual sense of adventure and barbarism. This is the album that destined to challenge existing standards of triumph and glory. Somewhere between all the power、folk and melodic death metal influences going on within this album make it the same level as their flawless debut.
They continue this battle with 3rd and the most famous chapter< Victory Songs >. The epic battles, the humble villages and the folk lore are presented in the veil of Viking metal holy sound here. ENSIFERUM show a hint of evolution in the following album <From Afar> and the latest one <Unsung Heroes>. In <Unsung Heroes> they focus on folk/acoustics and atmosphere more than ever which makes this one a fairly unique addition to ENSIFERUM 's discography so far.
Always standing on the Battlefield, they have kept the flame burning by spending the past 19 years honing the steel of their folk-infused battle metal auditory attack. Following the impressive 1st tour in CHINA, they will once again rise the flag and blow the horn for all you Chinese fans.
This winter night, all you need is to raise up your sword and shout out the Victory Song with ENSIFERUM!!
ENSIFERUM
Start:

20:00

Tickets:

Rmb 380 (door) / 300 (presale | on a first-come-first-serve-basis)