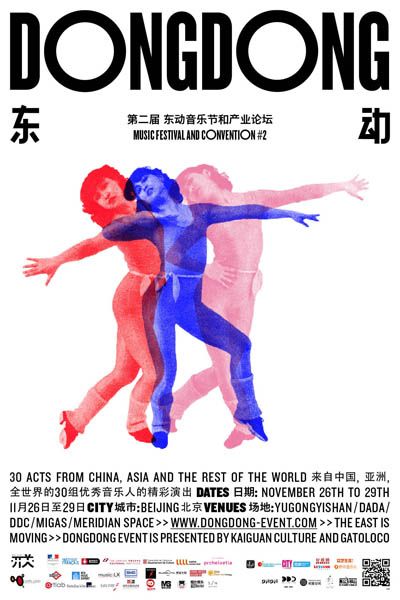 For this second year, DongDong brings up a diverse program full of fresh, upcoming, as well as more confirmed artists from China and around the globe.
This year we invite you to wander between YugongYishan, DDC, Dada and Migas to catch synth rock from Barcelona, Maloya from Reunion Island, delicious vintage pop from Denmark, but also the latest sensations from Changsha and a whole lot of greasy Rock'n'roll.
4 DAYS PASS TO ACCESS TO YUGONG YISHAN / DADA / DDC : 400 RMB (LIMITED QUANTITY)
More info: www.dongdong-event.com/
DongDong Festival -YUGONG Stage
From Nov 26th to 29th, DongDong will take over the stage of Yugong Yishan and present 4 nights of various genres.
– On Nov 26th, we will make you travel to faraway lands. China-based French fusion musician Djang San + band will open the night with his mix of Chinese instruments and chanson, followed by a rare apparition of Zhang Weiwei and Guolong who will play their subtle folk tinted with nomadic influences and rhythms from Western China. And to finish up with even more exotic vibe, Tiloun from Reunion Island will not miss to put everybody in a trance with hypnotic Maloya music, a combination of ternary rhythms and enchanting chorus.
Nov 27th, will be about fresh blood and rock and roll. Emerging Changsha band Colourhunter who just spent some time recording with Yang Haisong will be presenting their layered post rock for the first time in Beijing while Beijing new power trio, Gate to Otherside will take us on their trippy psych trip – and to end up in beauty French ambassadors of shit-gazing Cheveu will show us some of their indefinable electro garage punk rock. Wild night!
Nov 28th, we have the pleasure to host AV Okubo all the way from Wuhan with new songs and new line-up. They didn't come to Beijing in 7 months, so be ready for a juvenile mash up of experimental rock, disco punk and massive beats.
French synth rock band Colt Silvers, will be playing also for their second time in China, if you're into Foals and Alt-J, you're going to love them.
And to finish on the dance floor and get definitely hammered, plug your ear on South Korean band IDIOTAPE: 3 musicians, 7 synthesizers + 1drum, slamming dance beats powered by electrified punk riffs.
On Nov 29th, women are on top – Shanghai based songstress ChaCha accompanied by Dutch producer Jay Soul will be showing some of the funky yet deep electronics and warm vocals in mandarin which makes the signature of their duo AM444; Denmark indie pop star CALLmeKAT will bring her old Casio keyboards and her beautiful voice for the first time in China and Fifi Rong, the UK based Beijing songwriter who made a name for herself with featuring with artists such as Tricky will deliver some of her toxic trip hop .
YUGONGYISHAN愚公移山
 Nov.26th 11月26日
Djang San + band (FR-CN)/ 张思安+乐队(法-中)
Tiloun (RE/留尼汪岛)
Zhang Weiwei&Guolong /张玮玮和郭龙(CN/中)
 Nov.27th 11月27日
Cheveu (FR/法)
Gate to Otherside/意外之门 (CN/中)
Colourhunter(CN/中国)
 Nov.28th 11月28日
AV OKUBO/AV大久保(CN/中国)
Colt Silvers (FR/法)
Idiotape (KR/韩国)
 Nov.29th 11月29日
CALLmeKAT (DK/丹麦)
Fifi Rong (CN/中国)
AM444 (CN-NL/中国-荷兰)
Pricing:
4 days Dongcheng Pass (Yugong Yishan, Dada, DDC): 400 RMB
Yugong Yishan (26th, 28th, 29th): 130 RMB presale / 180 RMB at the door each night
Except: Nov 27th: 80 RMB / 130 RMB
Dada: 27th 60 RMB / 28th and 29th: 80 RMB
DDC (27, 28, 29th): 60 RMB presale / 80 RMB at the door each night
Migas:(29th): DongDong closure party 60 RMB
 Doors Open:Pm 8
Start:

Tickets:

4 days Dongcheng Pass (Yugong Yishan, Dada, DDC): 400 RMB Yugong Yishan (26th, 28th, 29th): 130 RMB presale / 180 RMB at the door each night Except: Nov 27th: 80 RMB / 130 RMB