Painkiller Mag 14th Anniversary Extreme Metal Feast
British Extreme Metal Legends CARCASS gonna hit on Beijing!
Spearhead of Grindcore and Melodic Death Metal!
One of the most extraordinary metal legions ever!
As one of the most creative metal bands made in UK, the extreme metal legends CARCASS have delivered 6 classic albums over the years. With each album they have managed to change the face of extreme metal. Whether it's Grind-Core or Melodic Death Metal, CARCASS has always been there to break the chains and set new rules.
Their debut "Reek of Putrefaction" came out in 1988 and receive its praise from Radio 1 legend John Peel. This album is absolutely a Grind-core classic despite its poor production.
With the more improved sophomore release "Symphonies of Sickness" they finally began to jump on the worldwide stage. With the guitarist Michael Amott (Arch Enemy, Carnage and Spiritual Beggars), their "Necroticism – Descanting the Insalubrious" showed even more intricate composition and melodic guitar solos. They succeed to push the limit once again with the 4th punch "Heartwork" which creates the template for melodic death metal.
After an 18 years hiatus, CARCASS has been fully reanimated and it's safe to say, they haven't missed a pathological step. The latest output "Surgical Steel" manages to hold up to their classic repertoire and proves that this band is still on top of the world.
Now for the first time ever, you fans have the unbelievable chance to join in this legendary band for their live show in Beijing. Take your CARCASS and prepare for the medicine they prescribe and the mind surgery they do!!
CARCASS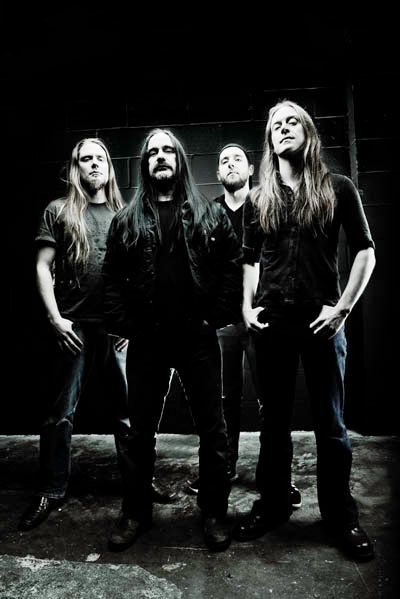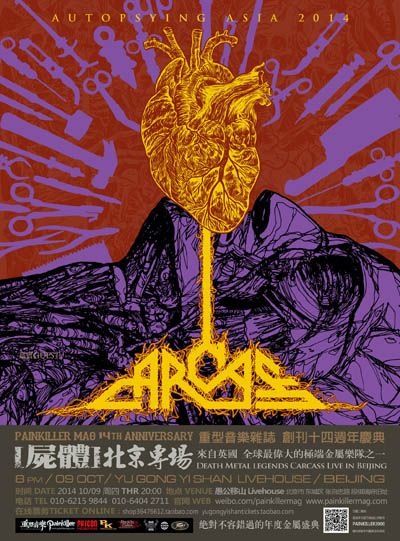 Tickets online:
http://www.douban.com/event/22549918/
https://yoopay.cn/event/20141009
http://www.smartbeijing.com/smartticket/
Hotline: 010-62159844
Start:

Tickets:

Rmb 380 (door) / 300 (presale | on a first-come-first-serve-basis)