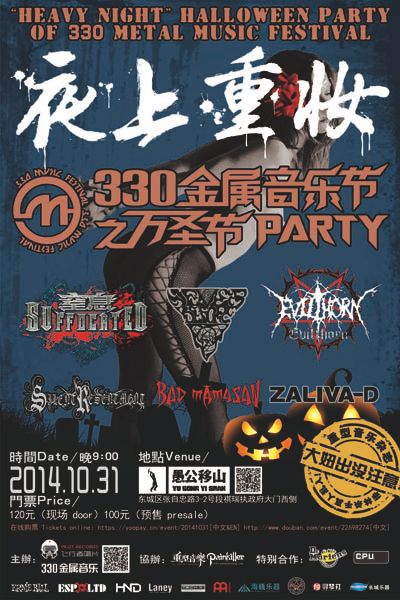 The successful 330 Metal Music Festival that has been around for 13 editions will be hosting its first Halloween party on the 31st of October 2014 in Beijing Yugongyishan.
The line-up includes the king of Chinese heavy metal Suffocated, expecting their new album; the only Stoner Metal in China formed by Chinese, Swedish, Italian and Japanese Never Before; old school dark metal EvilThorn, with the return of the original vocal and brandnew line-up; duo male-female vocals Beijing Gothic Metal band Silent Resentment, anticipating their second album; traditional heavy metal band formed by a number of foreign metal musicians active in Beijing music scene, Bad Mamasan; and special guest original dark electro/dark visual duo-DJ set Zaliva-D.
This show, besides bringing together a number of performances of different styles, will also work closely on the theme of Halloween in various aspects including set design, audience interaction and visual presentation etc. The event is supported by Dr. Martens, and most excitingly, the no.1 heavy metal magazine in China, Painkiller, will also be present in the show with its reality program of Filmkiller.
SUFFOCATED
NEVER BEFORE
EVILTHORN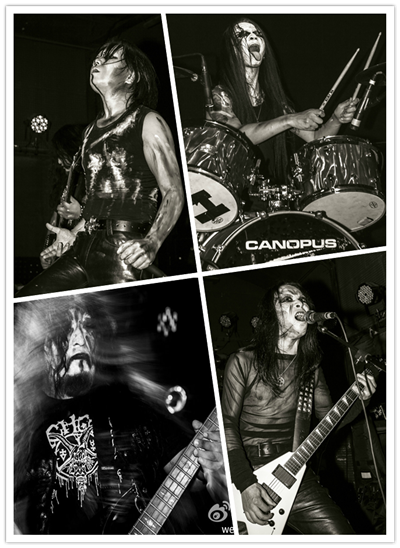 Start:

Tickets:

Rmb 120 (door) / 100 (presale | on a first-come-first-serve-basis)