Support: me:mo
New Noise proudly presents the show for American instrumental band THE ALBUM LEAF. The band will play at Yugong Yishan in Beijing on May 31.
The founder member and key orchestrator of The Album Leaf, Jimmy LaValla is arguably on of post-rock's focal figures. Inspired by a number of genres – classical, jazz, and post-rock among them – LaValle constructed his own songs in a similarly eclectic manner, utilizing everything from ambient noise to field recordings to radio transmissions. Over a decade the band collaborated with Sigur Ros, Mum, Mark Kozalek and many others. The Album Leaf supported Sigur Ros multilple times on their world tours.
For their show in Beijing they will be supported by me:mo in Yugong Yishan. The Album Leaf are known to take their audience on a musical odyssey with their magical tunes and live visuals. Highly recommended for fans of Sigur Ros, Four Tet and Mum.
http://www.newnoise.cn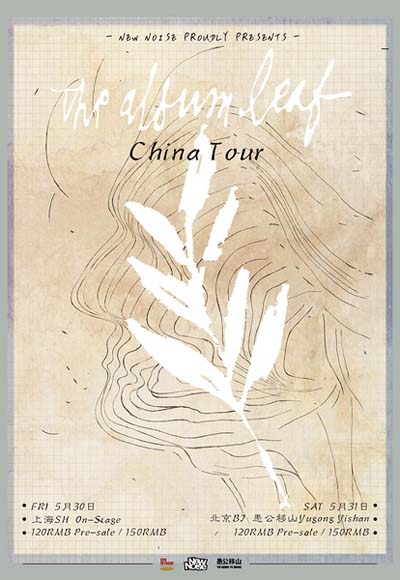 Tickets online: http://newnoise.taobao.com
http://yugongyishantickets.taobao.com
Start:

Tickets:

Rmb 150 (door) / 120 (presale | stop at midnight on 30th of May)