Tickets online:
https://yoopay.cn/event/MIBROCKPARTY
http://yugongyishantickets.taobao.com
GANDHI [Costarica]
Formed in 1993, more than a rock band, Gandhi is a musical institution in Costa Rica. Characterized for mixing diverse influences ranging from hard rock to latin rhythms, Gandhi has become one of the most prominent bands in costarican music scene history. Playing to audiences in Central America, Mexico, USA and even the UK, sharing stage with greats as Sting, Aerosmith and Deep Purple. Gandhi is as active and relevant, as it was when it all started, more than 20 years ago.
Starting as a band that mixed music with artistic visual elements such as body painting, theater props, lightning and scenery, Gandhi created a good following in the early days in Costa Rica. But it was until they released their first álbum in 1997 "En el Jardín del Corazón" that things really started to happen for the band. A sold out concert in Costa Rica's fine Teatro Melico Salazar, followed by 3 top ten hits, including the iconic single "El Invisible", a song that peaked at #1 in Costarican radio stations for more than 7 weeks, a first for a Costarican Band.
In 1999, released their second album"Paginas Perdidas", a ground breaking álbum in Costa Rica that led them to play to 2 sold out shows, followed by the achievement of winning 3 ACAM Awards, Costa Rica's versión of the Grammys. Given to their increasing popularity, Gandhi invited to headline the "Rock Fest". Costa Rica's prime music festival in 1999, 2000 and 2001.
The following years led to a string of succesful albums, in 2001 they were invited to join mexican and argentinian artists in the álbum "Tributo a Soda Stereo", in 2002 they released a doublé compilation álbum by the name of BIOS. In 2004 they released CICLOS, produced by reknown mexican producer and bass player of Caifanes, Sabo Romo. "Sr Caballero", Ciclos biggest single, gave Gandhi their fourth ACAM Award, and was used by the campaign "Armas No Gracias", a campaign led by ex -costarican president, and Nobel Prize Winner Oscar Arias; with the ends of reducing the ilegal weapon traffic in Central America.
In 2006, they released their first ever live DVD, compromised of performances in Mexico and United States, as well as a memorable concert in front of a 18,000 crowd at the Festival Imperial.
The critically acclaimed Arigato No!, their sixth album was released in 2009. Produced by guitar legend Stevie Salas (Rod Stewart, Mick Jagger, George Clinton), the álbum launched four top 10 singles, a People's Choice Award, and another ACAM Award for Best Album. "Arigato", their first single from the álbum was included in the world wide game Rock Band.
The success of Arigato No! Led them to play a string of huge concerts, first the "Antigua Aduana", a historical venue and a first for a rock band in Costa Rica. A few months later with Aerosmith, then the Inauguration of the new National Soccer Stadium (given by China), and later with Argentinian great Fito Paez to a 20,000 crowd. That same year, the Costa Rica Government invited Gandhi to play the presidential inauguration, a huge event celebrating democracy and the new elected president.
After a well deserved break in 2012, Gandhi spent most part of 2013 recording their follow up to Arigato No!, again with producer Stevie Salas, expected to be released in June 2014, the 'yet to be' titled álbum sure is amongst the more awaited albums of the year.
In February 2014, Gandhi will be playing with the Costa Rica National Symphonic Orchestra a string of 8 exclusive shows, followed by an appearance in the 2014 International Arts Festival (FIA 2014) in April.
Gandhi is:
Massimo Hernández : Drums
Luis Montalbert Smith: Vocals and Keyboards
Federico Miranda: Guitar
Abel Guier: Bass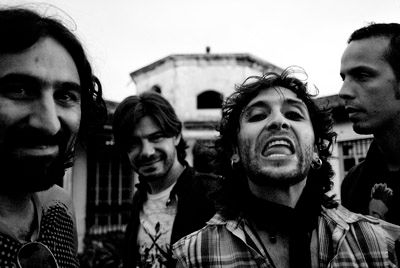 VERNEPIA [Ecuador]
Vernepia is a fusion-pop band based in Ecuador. It is formed up by sister and brother Nínive and Adrián Sánchez, vocals and keyboard player respectively. Both are composers of all their songs.
They got a formal musical education, since their childhood and continuing today, at the College of Music of "Universidad San Francisco de Quito" (Member of Berklee International Network). This made them able to create an original and innovative project that has got important media attention and a growing audience following them. We are sure you'll like it.
SHOTGUN REVOLUTION [Denmark]
If you like getting sweaty to bands like Guns ́N Roses, AC/DC, Buckcherry and Foo Figthers, then Denmark's Shotgun Revolution is a band not to be missed.
They stick to the tradition and deliver the kind of rock you simply cannot deny, with an amazing energy and not forgetting the right attitude.
SHOTGUN REVOLUTION thunders beyond the stage, at a pace and technical level, which makes even the finest practitioners of the genre, awed and breathless …
But make no mistake … although the references to their role models are clear, SHOTGUN REVOLUTION are still completely their own.
In the last year they have received a lot of favourable press cuts, both domestically and internationally …here's a few: Classic Rock Magazine (UK): "Rejoice ! This album underlines the bands potential worldwide…"
Power of Metal: "The mix of fast (almost metallic) tracks and the well balanced rock ballads is overall a bag of candy that appeals to many a hard rock fan. "
Bandit Radio – Sweden: nominated as "BEST INTERNATIONAL NEWCOMER"
On the stage is where the band really comes alive and they will always win over their doubters, by playing a blinding set of real hard Rock'n'Roll.
They have played all kind of venues worldwide, from one of Denmark's biggest festivals "Skanderborg Festivalen" to the legendary rock clubs "Bar Fly" in Camden, London (UK) and Whisky a Go-Go in Los Angeles, Venues in Berlin and
Stockholm and even as support act for guitarist SLASH…and they have never let an audience down. Their 2nd. Album 'The Legacy Of Childhood Dreams' is released in collaboration with their Danish record company Target Records and it really shows how the band has come of age and they deliver a fierce, powerful and addictive album, packed with huge anthem like choruses and colossal guitars. This album is close to a near perfect rock record.
Shotgun Revolution has, again, enlisted the help of legendary Metallica producer Flemming Rasmussen and he reckons the band is the best rock band to come out of Denmark… ever … and don't just take his word for it – do yourself a favour and go out and experience this band first hand, then you'll know what we're talking about.. Shotgun Revolution are ready to spread the word across the world…….. are you ready too ?
Shotgun Revolution is:
Dee Vocals
Martin Frank Guitar
Henrik Berger Guitar
Michael "Tex" Carlsen Bass
Kasper Lund Drums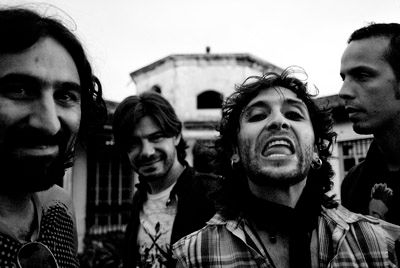 Start:

Tickets:

Rmb 80 (door) / 70 (presale | stop at midnight on 29th of April)