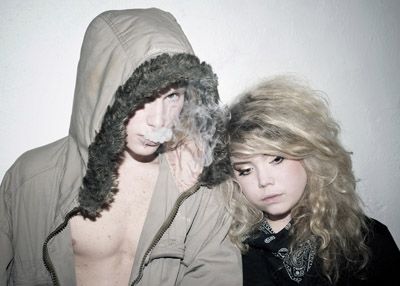 Tickets online:
jj was described as one of Sweden's or maybe the world's most mysterious band, there are only few interviews of them, unknown identities, and no live performances and they even didn't have the official website before 2012. However thanks to the websites and social network, their reputation managed to get a huge spread in the fans all over the world.
jj released their debut single "jj n° 1" in early 2009 and a couple of months later they released their debut album jj n° 2. Both the debut single and the debut album received a Best New Music inclusion from Pitchfork Media with ratings of 8 and 8.6 respectively.
On December 24, 2009 it was announced that the American record label Secretly Canadian had signed jj to their roster. At the same time, the release date for jj's second full length album was slated. The album, named jj n° 3, was released in the United States and Sweden on March 9, 2010. jj works with both Sincerely Yours and Secretly Canadian, depending on the location, and hence didn't leave Sincerely Yours for Secretly Canadian.
Aside from their official releases, jj has also done several covers and new takes on contemporary songs. For example, they've recorded covers of Akon's "Troublemaker", Jeremih's "Birthday Sex" and the "Theme Song" for the Welcome Back, Kotter TV-series. All of these were released for free on the internet, making it similar to a mixtape. From March to April 2010, jj was on a nationwide tour in the United States with the British band The xx. Following the US tour, jj went on a minor tour through Europe with dates in Italy, France and Belgium among others.
JJ's next release, following jj n° 3, was a mixtape named Kills. It was released as a free download on Christmas Eve 2010, at Sincerely Yours website. jj's song "My Life" from jj n° 3 was featured in an official trailer for Battlefield 3 that was released in April 2011.
In February 2011, jj perform in Hong Kong and Singapore. The track "Let Them" from their live set in Singapore was recorded and later released for free under the single "jj Live in Singapore". In late March 2011, jj collaborated with fellow Swedish artist Yves Saint Lorentz to make an official remix of Rebecca & Fiona's single "Bullets". The remix was named "The End of the World".
In summer 2011, jj collaborated with the American R&B singer Ne-Yo and released the song "We Can't Stop" as part of the Adult Swim Singles Program 2011. Later in 2011, they were involved in another collaboration with American rapper Don Trip to make the song "Cheers (jj's Save Our Souls Remix)" for the magazine The Fader.
On April 4, 2012 jj announced the release date for their new single "jj n° 4". It was released on May 9, 2012.
On June 21, 2013 jj released the song "Fågelsången" for free at their website. It's the first song off their upcoming album V.
In September 2013 they collaborated with Adrian Lux on the song "Wild Child". At the end of December 2013, jj released a video for the song "My Boyz" on Vimeo.
The genres of jj music is hard to defined, but one thing we can for sure is that their music is a complex combination of indie pop, dream pop, balearic beat, hip-hop and electronic. Surprisingly, jj made such a perfect balance in those genres. Some said jj was born to break the boundaries in music style. And they're truly one of the most beautiful bands in our time for sure.
Videos:
Still – http://v.youku.com/v_show/id_XNjg4NDY2NTA4.html
My Boyz – http://v.youku.com/v_show/id_XNjg4NDY1NDgw.html

VI – http://v.youku.com/v_show/id_XNjgyMjU1NDk2.html
Let Go – http://v.youku.com/v_show/id_XMTkzODI3MDQ0.html
Start:

Tickets:

Rmb 200 (door) / 150 (presale | stop at midnight on April 19th)